Joe Exotic Responds to Amazon Shelving 'Tiger King' and John Cameron Mitchell Portraying Him
Joe Exotic doesn't want John Cameron Mitchell to portray him..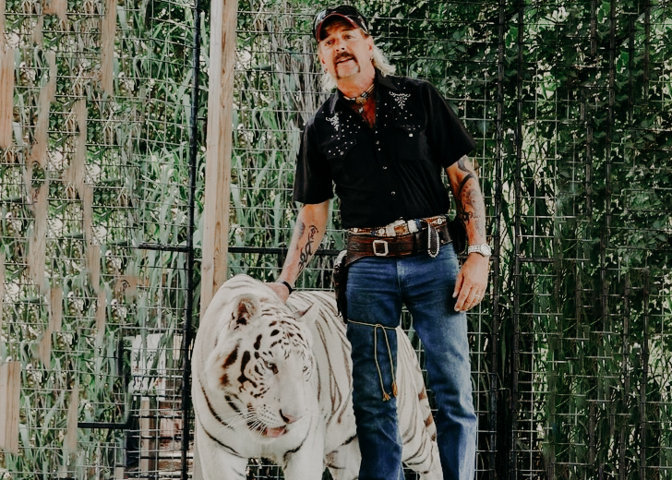 Nicolas Cage recently announced that he would be taking a step back from the Amazon series Tiger King, set to feature the life story of Joseph Maldonado-Passage, better known as Joe Exotic.
Apparently, Exotic was more than pleased at the surprise announcement from the Ghost Rider star. 
Exotic was the owner of an exotic yet seedy animal park in Oklahoma, who plotted to have animal activist Carole Baskin killed amongst other wildlife violations. 
Cage Taking a Step Back from 'Tiger King'
Cage told Variety in an exclusive statement that he will not be recreating Exotic's life for Amazon and even hinted that the show might be shelved for the foreseeable future. 
Cage further clarified that this decision did not come out of a lack of substance in the script or his unwillingness to do the part. He explained, 
I read two excellent scripts, which I did think were excellent, but I think Amazon ultimately felt that it was material that had become past tense because it took so long for it come together.
While there was a point in the past where the producers, associated with the streaming platform, considered Exotic's story a worthwhile tale to tell, that scenario has long since changed. 
Exotic's Response
On July 14, 2021, the former animal park owner reacted to Cage's statement via a tweet. He thanked God that the parties involved had dropped the idea of recreating his story yet again. 

Joe Exotic's tweet (Source: Twitter)
He explained he did not like the idea of anyone portraying him on screen because no one really knew him. Then, taking a swing at actor John Cameron Mitchell, he stated that Mitchell would make him out to be a "flaming [expletive]."
He further wrote that he was a hard-working gay man who apparently, obviously still, did not want to be portrayed as anything otherwise. 
Cage's statement to Variety was a surprise because it came just days after Mitchell was seen for the first time in character. Mitchell was seen filming a PDA-filled scene with one of Exotic's love interests in front of a pet shop in Brisbane, Australia, on July 11, 2021. 
While the recipient of Michell's on-screen kiss was not identified, the rest of the cast of Tiger King included Sam Keeley and Nat Wolff as Exotic's former partners.
Kate McKinnon would be cast as Baskin, and Kyle MacLachlan would have been her on-screen husband.
Mitchell Claimed to Understand Exotic
Despite Exotic's crude remark about his portrayal in the movie, Mitchell told Page Six that he understood the character because they had some shared history. He said, 
I grew up in a lot of the places [Exotic] lived in. So, I kind of know something about him. We're the exact same age within six weeks.
According to Mitchell, Exotic's behavior could be attributed to his upbringing as a queer individual. He claimed that Exotic hated himself because everyone around him did — eventually, Exotic dealt with his emotions by imitating his oppressors. 
Mitchell even went as far as to say that, in a way, he admired Exotic's "pathetic desire to outdo his oppressor."