Joc Pederson and Wife Kelsey Williams Married in a Lavish Santa Barbara Ceremony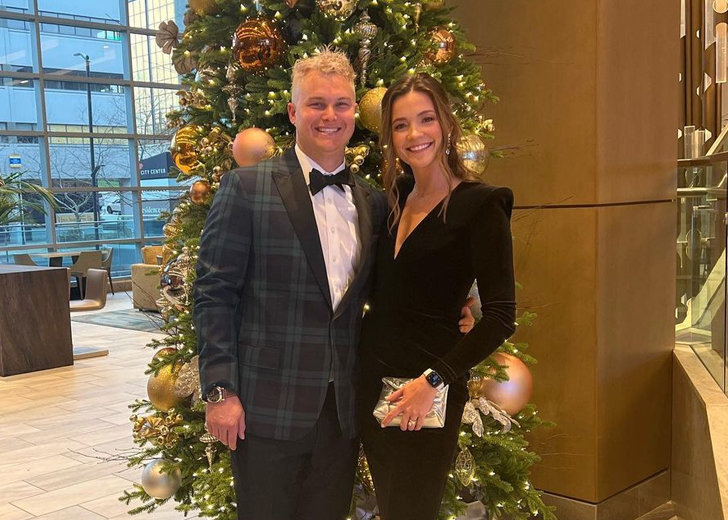 Joc Pederson, a professional baseball outfielder for the San Francisco Giants of MLB, is happily married to his longtime girlfriend [now wife] Kelsey Williams.
The couple had a lavish wedding at the Villa Sevillano in Santa Barbara, California, in January 2018.
Marking four years of his marriage to his wife, Pederson stated he still "get goose bumps" every time he recalled the beautiful wedding day.
In his January 5, 2022, Instagram video, he shared a special wedding clip that showed the couple walking down the aisle, their family members, as well as famed singer John Legend singing 'All of Me.'
Below is everything you need to know about Pederson and his wife Williams' lavish wedding!
Deciding the Wedding Location
In an exclusive talk with Martha Stewart magazine, Pederson and Williams talked about their wedding and everything that went behind it.
The baseball outfielder first shared that he had zeroed in on Santa Barbara for his wedding location back in 2015 itself.
Sharing what exactly happened, he admitted that he was driving to the San Francisco Bay Area, where he grew up, one day in 2015, and a detour took him through Santa Barbara.
He was immediately amazed by the city's beauty, which compelled him to text Williams, writing, "I'm going to get married here someday."
Exchanging Vows in Front of 250 Guests
A few years later, Pederson's wish to get married in Santa Barbara came true, as he and his beloved wife walked down the aisle together in an intimate ceremony. 
As they walked towards the grand stage to exchange their vows, around 250 guests, who were mostly close friends and family members, looked at the couple in awe.
On the big day, the MLB star also wanted to make sure his partner, who had just finished her master's in kinesiology at the time, had the best day ever. He, therefore, ensured there was "a strong sense of family, friends, and intimacy."
They eventually exchanged vows on a wooden platform in front of a flower-adorned wooden ring, symbolizing eternal love, as it has no beginning and no end.

Joc Pederson and his wife Kelsey Williams clicked at their wedding in 2018. (Photo: Instagram)
Sometime later, the couple danced to Legend's 'Surefire,' which also kicked off a night of revelry.
"It was just fun to see everybody dancing—young and old," Williams shared. "Everyone could feel the love."
All that only shows how lavish and special a wedding the two had in 2018.
Blessed with Two Kids Now
Four years after the special wedding, Pederson and Williams are now a happily married couple blessed with two kids.
The pair welcomed their first child, daughter Poppy Jett, in 2018 during the National League Championship Series between the Dodgers and the Milwaukee Brewers.
They then gave birth to a son in 2020. The baby boy's arrival was just a month before the Dodgers 2020 World Series championship victory.
The family of four is often seen together via Pederson's social media handle, as he likes to update his fans about his family. On the other hand, Williams does not have a social media handle.