Jobe Watson Met His Partner While Suspended from AFL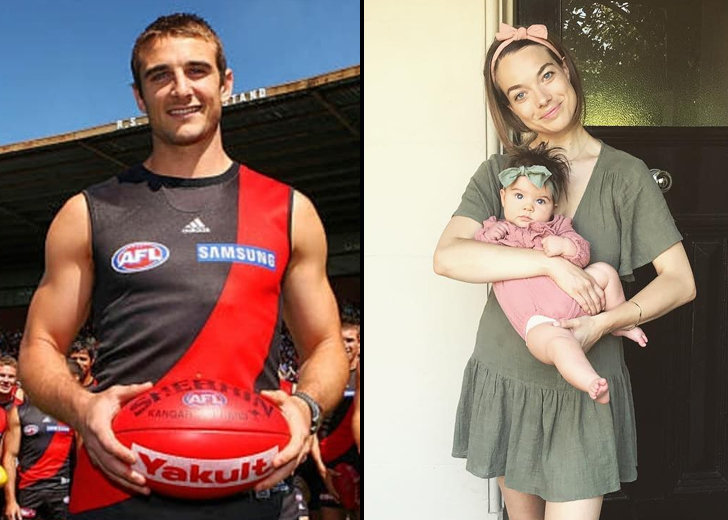 Every cloud has a silver lining, and former AFL star Jobe Watson can attest to that. 
Watson was the captain of Essendon from 2010 to 2015 before he was caught up in one of the club's most scandalous drug cases.
In 2014, he and 33 other players were suspended after they were found guilty of taking banned supplements in the 2012 AFL season.
Watson admitted to taking the drug but maintained his innocence, saying the club had informed him that the substance was legal. 
At the time, he shared they were struggling to accept the decision and felt it did not support the players' firm belief that they were innocent.
"Our legal team is thoroughly reviewing the decision and will explore any avenues available to us," added Watson.
Unfortunately, the decision was not reversed, and Watson was suspended along with other players from the 2016 season. 
He was also forced to return his 2012 Brownlow Medal awarded to the best player of the season.
After the ban, Watson moved to America for a change of scene and worked in a coffee shop. But little did he know fate had something else in store for him. 
Jobe Watson on Meeting His Girlfriend
During his stay in New York, Watson worked as a barista. In 2016, he met his current girlfriend, Virginia Slaghekke. 
His girlfriend was a pre-med student and a model who was once signed to Donald Trump's modeling agency. 

Jobe Watson and his girlfriend and daughter (Source: Jobe Watson/Instagram)
The couple crossed paths in a cafe, and the former Essendon captain went after her to slip her his phone number scrawled across a napkin. 
Speaking to the Herald Sun in February 2017, Watson's girlfriend recalled the meeting. 
"Power to the napkin. He was very nervous when he did it, but it worked out well," said Slaghekke. 
Slaghekke did not know of Watson's fame and identity back in Australia and explained Watson was just "the Watson" from New York to her. 
The couple began dating, and after the Australian footballer's suspension was over, they moved to Melbourne. 
Watson retired from AFL in 2017 and, according to Daily Mail, now works in property management while Slaghekke studies biomedical science and clinical psychology. 
Jobe Watson and His Family
In September 2018. Watson and his girlfriend welcomed their first baby, a daughter named Juniper Hendricks Watson. 
Watsons took to Instagram to announce Juniper's arrival and explained the reason for her name. He explained that his mother's favorite drink was gin, and Juniper is often used to flavor gin.
Two years later, the couple welcomed their second child. The former football star announced the arrival of their son, Wolf Odin Watson, via Instagram. 
He posted a photo of the new baby sleeping in a cot and shared that Wolf looked more like him than his partner.
And recently, on February 13, 2022, Daily Mail reported that the couple was expecting their third child. 
Slaghekke revealed the happy news in a social media post, writing, "So excited to be completing our family early August."
Congratulations are in order for the expecting couple.