Who Is Jimmie Johnson's Wife? Get To Know His Love Life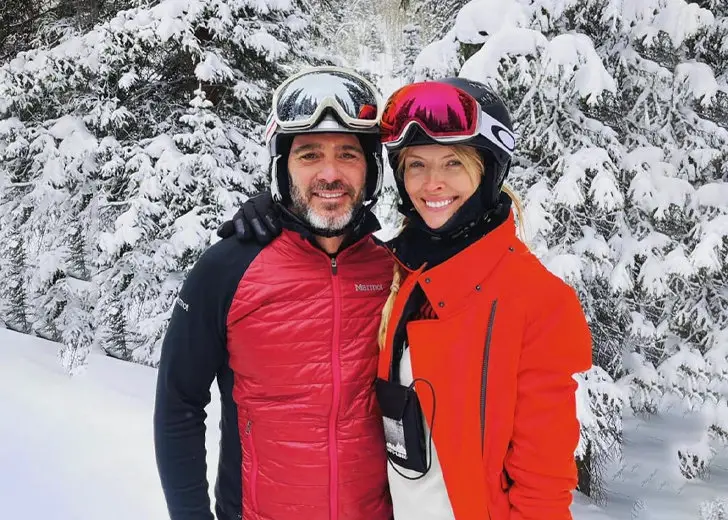 Jimmie Johnson and his wife Chandra Johnson got married on December 10, 2004, at St. Bart's in the Caribbean.
They initially met in 2002 in New York through Jeff Gordon, a mutual friend, and Jimmie's former teammate.
A year after their first meeting, Jimmie proposed to Chandra on top of a mountain while they were on a snowboarding trip in Beaver Creek, Colorado, in 2003.
Initially, Chandra perceived Jimmie was joking but gave her approval upon realizing that the proposal was official.
The Johnson family comprises four members, including Genevieve Marie Johnson and Lydia Norris Johnson, the couple's daughters, born on July 7, 2010, and September 6, 2013, respectively.
Who Is Jimmie Johnson's Wife Chandra Johnson?
Born Chandra Janway in Muskogee, Oklahoma, in 1978, Jimmie's wife is a former model and actress notable for her work in 2007's flick Devil's Canyon.
She graduated with a degree in business communication from the University of Oklahoma in 2000.
Shortly after, she joined Wilhelmina Models, a reputed modeling agency in New York, to pursue a career in the modeling and fashion industry.
Presently, Chandra looks after the operation of The Jimmie Johnson Foundation, initiated by the couple in 2006 with a mission of funding K-12 public schools via their Champions Grant Program.
In addition, the foundation collaborates with Make-A-Wish Foundation to fulfill the wishes of kids suffering from life-threatening diseases.
While not much about her family is known in public, her brother's death is well-documented.
In March 2014, Chandra's brother Jordan died in a skydiving accident after falling to the ground unconscious. Reportedly, the twenty-seven-year-old collided with another diver while in the air.
Jimmie Johnson's Wife Supports Him
While most celebrity wives shy away from the limelight, Chandra is the opposite.
She is a motor race enthusiast who travels with her husband and is frequently spotted during his races, cheering and celebrating his victories.
Chandra was pictured alongside her daughter Genevieve Marie and husband, overwhelmed with emotions after Jimmie won the 2013 Sprint Cup Series at Homestead-Miami Speedway.
In addition, she has been noted accompanying her husband on many sports awards ceremonies and red carpet events.

Jimmie Johnson's Wife Chandra Johnson with their children during a 2021 race. (Photo Credit: Instagram)
For instance, Chandra was present with Jimmie during the NASCAR Sprint Cup Series Awards hosted at New York City's Waldorf Astoria in 2008.
And on December 4, 2013, she accompanied her husband Jimmie at the NASCAR Evening Series hosted at The Palazzo in Las Vegas.
Likewise, the model-turned-actress has also been to the White House on numerous occasions to celebrate her husband's achievements.
On February 5, 2008, Chandra and Jimmie were attended by former United States President George W. Bush, recognizing Jimmie's Sprint Cup Series win in 2007.
Similarly, they also met former President Barack Obama, who hosted the couple in the Red Room before a September 7, 2011 ceremony to honor Jimmie's 2010 NASCAR Sprint Cup Series win.
During the same event, Chandra was pictured in the east room alongside former Army Chief of Staff Raymond Odierno, who tragically passed away on October 8, 2021.