Jim Gaffigan on Quarantine Experience with His Family of 7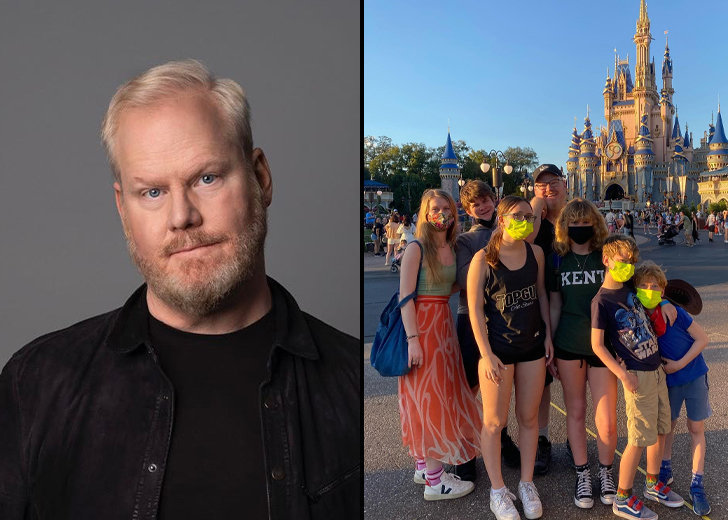 The pandemic has changed us all, and standup comedian Jim Gaffigan is no different.
On February 10, 2022, after the release of his Netflix special Comedy Monster, the 55-year-old comedian spoke with CNN and talked about his quarantine experience with his family of seven.
His family of seven includes him, his longtime wife Jeannie Gaffigan, and their five children, Marre Gaffigan, Jack Gaffigan, Katie Gaffigan, Michael Gaffigan, and Patrick Gaffigan.
Jim Gaffigan's Quarantine Experience with Wife and Children
During the conversation, Jim first admitted that he and his family spent the early months of the pandemic — the spring of 2020 — in New York City.
But by June that year, they found the experience overwhelming; hence, they moved upstate and purchased a house to have more room.
"It's a lifetime, right?" the comedian told the publication, referring to the past two years.

Jim Gaffigan with his wife and five children at The Wizarding World of Harry Potter in January 2022. (Photo: Instagram)
He continued to express, "It's like describing the Fall of Saigon, you know, there's so many emotions. I think it's gonna be really interesting to see culturally how we all grow to understand what we went through."
Jim also emphasized the fact that the pandemic and quarantine experience had psychological effects on everyone and was especially harder on kids.
In addition, The Jim Gaffigan Show creator revealed he personally had a hard time articulating what living at home with five children during a pandemic felt like for him.
With a big laugh, he explained that he felt it was a little bit like watching an episode of Dateline.
"Like you think you're gonna find out information, and then it gets to that four-minute commercial junk, then there's a new variant when we get back," Jim added.
Jim Gaffigan Found It Difficult to Work, Too!
If looking after his wife and children wasn't enough, he also had to work from home.
But due to the severity of the situation and the impact it had psychologically, Jim found it hard to work. As per him, he didn't write standup for the first year and a half during the pandemic.
He even tried to stay fit by performing exercise; however, he only ended up gaining weight.
"You know, we're a household of seven, so it was kind of a round-robin of people losing their mind," he recalled his family's situation at that time.
Amid such a situation, Jim was smart to observe his family's activities and conversations, which he reportedly used to turn into commentaries on CBS Sunday Morning for 22 weeks.
And as the pandemic eased off, he began performing at some drive-in shows along with fundraisers and virtual performances.
According to CNN, Jim and his wife Jeannie, who had a near-fatal brain tumor removed in 2017, contributed the funds collected from his performances to medical personnel on the front line of the pandemic.
They even delivered food to hospitals across New York City's five boroughs through their nonprofit organization, The Imagine Society.
As stated earlier, Jim was recently featured in a Netflix special Comedy Monster that was released on December 21, 2021.