Is Jet Li Still Alive or Dead? His Disease and Net Worth Discussed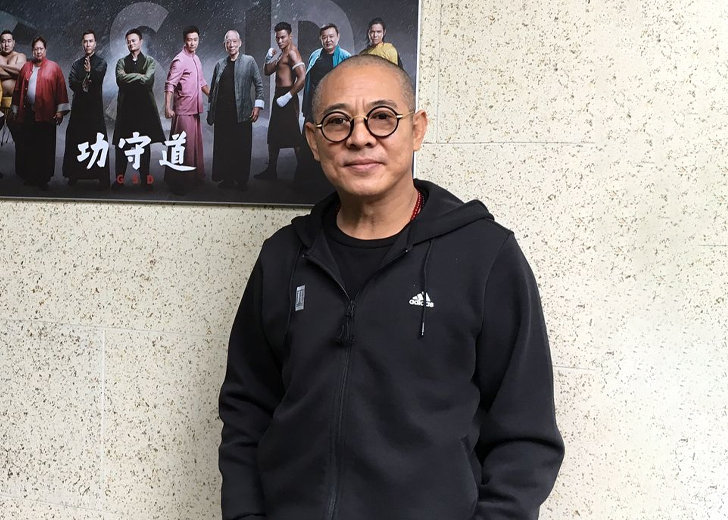 Jet Li, co-founder of martial arts-oriented health and wellness company Taiji Zen alongside Jack Ma, is one of his generation's most well-known martial artists and actors.
The Beijing-born naturalized Singaporean citizen has been the center of attraction in many action movies, whether in front of the camera or behind it. He is an expert in diverse styles of modern wushu, prominently Changquan and Fanziquan. 
However, Li has not been talked about that often in recent times. He has especially been absent from Hollywood since 2020.
His obscurity from the mainstream media has led fans to ask if he is still alive, and if he is, how is he spending his days now?
Who is Jet Li?
Born on 26 April 1963 in Beijing China, to father Li Qingquan and mother Zhang Feng Lan as the youngest child of two boys and two girls, Li Lianjie (courtesy name Yangzhong) was a talented kid growing up, taking part in non-sparring events and making his way up to All China games. 
His talent and passion for martial arts eventually got noticed by coaches Li Junfeng and Wu Bin and they carefully trained him. Wu Bin also purchased food for Li and his family so that the protein intake remained sufficient. 
The coaches' effort would pay off. Li became such a strong wushu fighter that he could compete against the adults.
He even remained the national all-around champion from 1975 to 1979. He shared the winning experience with China's Internet Celebrity, 
My winning first place caused quite a sensation because I was so young. I was 12 years old, and the other two medalists were in their mid-to-late twenties. During the awards ceremony, as I stood on the top step of the podium, I was still shorter than the 2nd and 3rd place medalists. It must have been quite a sight.
The super-talented wushu champion was even asked by President Nixon to work as his personal bodyguard.
The leader questioned, "Young man, your kung fu is very impressive…How about being my bodyguard when you grow up?" To such a request, Li replied, "No, I don't want to protect any individual. When I grow up, I want to defend my one billion Chinese countrymen!." 
Unfortunately, Let's retirement came early at age 18 due to a knee injury. He then shifted his focus to coaching the Beijing Wushu team for a few years before rediscovering himself as a martial arts film star. 
As of now, Jet Li's estimated net worth is $250 million, according to Celebritynetworth. His name is often mentioned in the list of the richest actors in the world. 
Li once rejected an offer from the $1.795 Keanu Reevs' The Matrix franchise to portray the character Seraph.
However, Li's ideals stooped him from continuing the project after one year spent in production. He was against the production team's intent to digitize the moves that he had been training his "whole life."
Is Jet LI Still Alive?
Let's get the big question out of the way first — yes,  Li, who co-starred in The Forbidden Kingdom alongside Jackie Chan, is still alive.
Obscurity doesn't always mean death, and the martial artist is still alive and kicking. In 2023, the megastar visited Nepal to meet up with his old pals, including his meditation guru Yongey Mingyur Rinpoche, who is a celebrated Tibetan monk.
He went to the mountain country with his ex-actress wife Nina and their two daughters Jade and Jane.  
Li was one of Hollywood's biggest assets in the '90s and the early 2000s. First starting as a local acting sensation in China, he stepped into Hollywood in 2000.
That year, he was cast alongside Aaliyah, Isaiah Washington, and DMX in Romeo Must Die.
The movie wasn't that big a success. However, that didn't stop Li from being noticed for his impressive performance.
Over the next decade, he worked in countless hit movies such as The Expendables, War, Kiss of the Dragon, Cradle 2 the Grave, Fist of Legend, The Mummy: Tomb of the Dragon Emperor, Romeo Must Die, The Forbidden Kingdom, Unleashed, Hero, Once Upon a Time in China, Fearless, and The Bodyguard from Beijing to name a few. 
But, as 2010 approached, he had to reconsider his priorities in life. After a health scare, he had to slow down in his acting career. His last movie was Mulan in 2020 in which he portrayed the Emperor of China. 
In 2023, John Wick series director Chad Stahelski told Screenrant that he would love to cast kung fu rival Jet Li and Jackie Chan alongside the movie's lead Keanu Reeves in future John Wicks movies, adding hope to fan's desire to see the martial arts duo in the future John Wick 5.
Jet LI's Disease and Health Scares
In 2010, Li was diagnosed with Hyperthyroidism. Right from the get-go, his overactive thyroid held him back from doing what he most loved — training and staying fit.
But, the action movie icon was determined to keep issues at bay. He kept the condition from getting too bad with medications.
His prescriptions stopped him from training, and when it came back stronger in 2013, effects were seen.

Jet Li has been suffering from health issues due to thyroid disease and spinal problems. (Photo: Jet Li/Instagram)
He had gained weight because of the effects of the disease on his metabolism and heart rate. During an appearance on a talent show as a judge that year, he had a fuller face and a heavier frame.
Li confessed that life had not been easy. He was unsure if he could work for long, but some positivity was still there. "I'm in pain, but I'm not suffering. I'm happy," he said of his state.
Along with hyperthyroidism, he also had spinal problems. That came from his intense training and putting his body on the line for action sequences throughout his life.
That same year, he also received warnings from his doctors that if he did not slow down with his stunts, he could "end up in a wheelchair."
He kept doing movies here and there, but it wasn't until 2018 that the actual extent of the effects of his conditions was clearly visible.
In May 2018, he was pictured out in public. Li, who looked sick, had his head shaven and looked a lot older than his age would suggest.
These pictures worried fans. But the actor put everyone's minds at rest with a social media post revealing he was in good health.
"I would like to thank all my fans who expressed concerns about my health. I'm doing great and feeling great!" he wrote in the post. He even shared his excitement about a few future projects.
Since 2018, he has done only one movie — Mulan in 2020.
As of today, he is still active in the movie industry, although barely. But he could surprise us with some new projects in the future.