Jessica McNamee Wore a Couture Gown in Her Malibu Wedding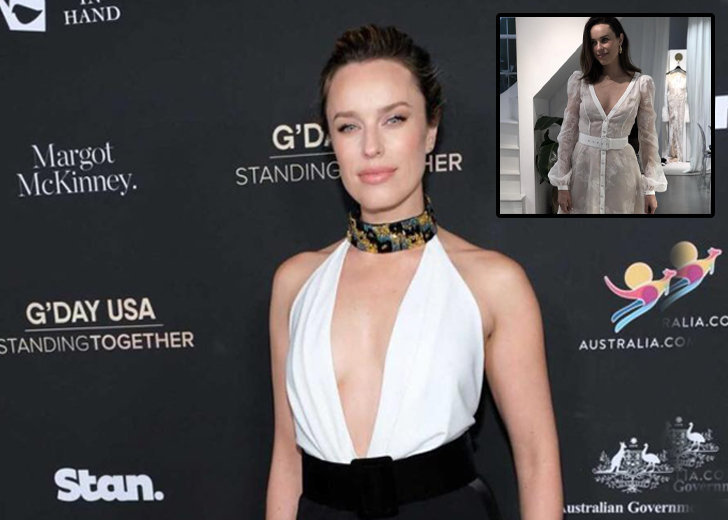 Jessica McNamee's iconic wedding dress managed to drum up so much attention during and after her April 2019 nuptials that even three years after the fact, the iconic gown deserves a look-back. 
McNamee married her property developer husband, Patrick Caruso, over the last weekend of April, close to three years ago as of this writing. 
The couple tied the knot at Adamson House, right on the coastline in Malibu, in front of their family and friends.
Without further ado, let's get right into McNamee's belted wedding gown. 
The bride wore a long-sleeved, belted gown by J. Andreatta - the same Australian designer who famously created Jasmine Yarbrough's dress when she married Karl Stefanovic in Mexico the year prior.
The plunge neckline dropped into a solid white stripe with buttons, with the delicately embroidered sheer material on either side.
"Congratulations to Aussie actress @jessica_mcnameew who married in LA last weekend wearing custom #jandreatta," the designer wrote on Instagram.

Jessica McNamee's wedding dress (Source: Instagram)
Designing Jessica McNamee's Dress Took 6 Months
In an interview with Daily Mail Australia, Andreatta confirmed that the dress took about six months to bring to life and was made from a hundred percent Italian silk organza. 
"We wanted her dress to reflect her personal style which is edgy yet laid back, while complementing their wedding venue location," she told the outlet. 
She further explained how the dress was specifically designed such that McNamee's look on the day of her wedding would be distinctly different from what her fans were used to seeing on red carpets. 
"We created something that hadn't been seen on her before - a deconstructed style that was relaxed yet whimsical," the designer professed. 
Jessica McNamee Wanted to Keep Wedding a Secret
A couple of months prior to her big day, the bride told the Daily Telegraph (via Yahoo! Lifestyle) that she and her husband to be were trying to keep the wedding plans a secret.
"Yes, I'm engaged. We're trying to keep it under wraps," she said at the time. 
She didn't even disclose her husband's name at the time. Instead, she only shared that he was a "lovely Australian boy" who had moved to the states. 
She affirmed that her husband was now from the entertainment industry but a property developer — something she was really happy about. 
About Patrick Caruso
Caruso, native to Australia, attained a Bachelor's degree in Property Economics with honors from the University of Technology Sydney before earning a postgraduate degree in Applied Finance from the esteemed Macquarie University. 
As per his LinkedIn profile, he is currently serving as the Head of U.S. Development for Crown Group Holdings Pty Limited and a Managing Partner at One Global Capital.