Behind Jess Velkovski and Aaron Waters' Break Up — What Happened?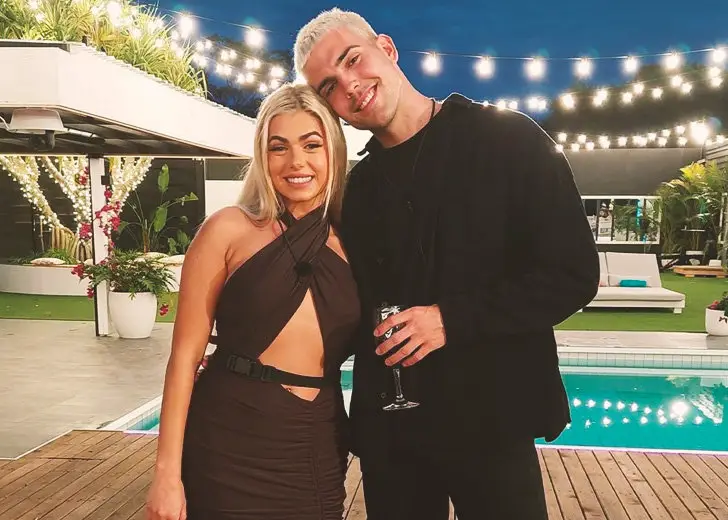 Jess Velkovski and Aaron Waters have called off their relationship.
The Love Island Australia couple split after leaving the villa, where they went through a rough patch in the final weeks.
Both Velkovski and Waters took to their social media and spoke to 9Entertainment to confirm the breakup and clarify the details.
"We still had issues seeing eye to eye on a situation in the Villa," the reality star said in the interview. "I wanted to move past it, and at least thought we could grow from it, but there was no real growth there, so I just felt like it was best to part ways."
Similarly, Velkovski shared a statement on her Instagram stories to respond to people's queries about her relationship status.
The reality TV star stated she and Waters were no longer together, writing, "UNFORTUNATELY WE ARE NO LONGER TOGETHER. WE BOTH AGREED IT'S FOR THE BEST FOR THE BOTH OF US. APPRECIATE ALL OF YOUR LOVE & SUPPORT [sic]."
Aaron Waters Claims He Gave His Best Shot
In the interview with 9Entertainment, Waters further explained that he tried to look at Velkovski's perspective when he felt things weren't reciprocated.
He also implied that he could understand her at times, but they could not mix well together most of the time.
He added:
There was a lot of friction, there was a lot of tension. I felt like I wasn't getting anything back. I did feel like it was stopping us and then moving forward out of the villa we had some time together and it kept coming up and it wasn't really changing on her side so I felt like it was dragging us down.
The Love Island star then claimed that he gave his best shot to his relationship with Velkovski while adding that he felt he could only do so much and had to look after himself.
"I just started to second guess myself when I felt like I shouldn't be second guessing myself," he stated.
Major Reason behind Jess Velkovski and Aaron Waters Break Up
During the interview, Velkovski added she believed the major reason behind their breakup was the disagreements since leaving the Love Island Australia villa. 
According to her, the two were barely seeing each other after they left the show.
In addition, she stated they did not agree on a lot of stuff, leading the relationship to go through a rocky path.
Velkovski said, "The way that the conversation came about was that we had a long phone call and then I messaged him and I kind of just said it's not really working. He definitely agreed with me."
She even claimed that after leaving the villa, she "didn't feel like a priority" and "didn't fit in anywhere" with her former boyfriend's future plans.
When asked if there was any chance of the couple getting back together in the future, Velkovski said it was "a clean break," and she does not see them getting dating each other again.
Velkovski and Waters are not following each other on social media, too, at present, setting the record straight that the two are serious about the split announcement.