Is Jerry Springer Married? Divorce Rumors with Wife Debunked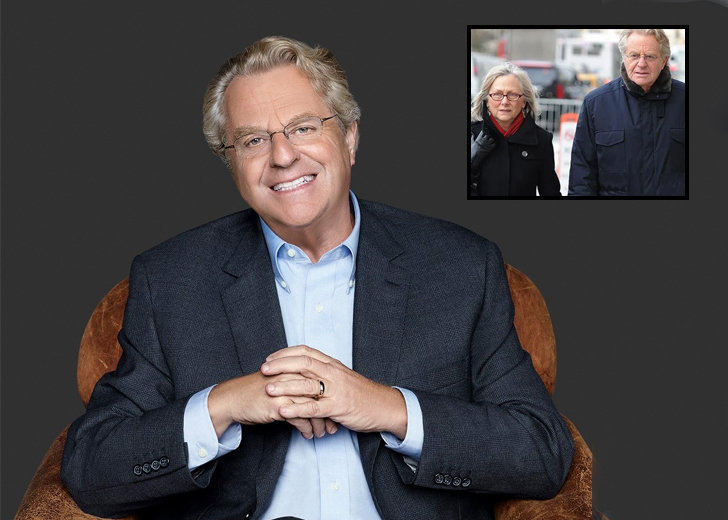 There are a lot of rumors surrounding Jerry Springer, his wife, and his married life. 
From speculation of a sex scandal to people wondering "is Jerry Springer married?" to his wife after it, a lot is going on in the journalist's life.
Many reports have also mentioned that he is divorced. 
Here is the truth behind all these speculations. 
Is Jerry Springer Married?
Not much is known about Springer and his personal life. HWe is a very private person and often requests his fans and followers to respect his privacy. 
According to The Sun, the former mayor's wife is Micki Velton. The pair met at Proctor and Gamble, where Velton used to work at. 
It is reported that they dated for a while before getting married in 1973. After three years, the duo was blessed with a daughter named Katie. 

Jerry Springer posing for a photo. (Source: Instagram)
But after almost two decades of marriage, the pair split and got a divorce in 1994. Most of the sites have reported the same.
But there has been no evidence if Springer is actually divorced from his wife or not. Moreover, on April 18, 2010, the journalist talked to The Daily Beast about his privacy.
It is mentioned that he had been married to Velton for over 36 years. It was also reported that he loved in Chicago suburbs with her.
The article was updated on July 14, 2017, but the information about Springer and Velton was not changed. 
Currently, there is no news about the couple and if they are still together or not.
Jerry Springer's Scandals 
Sex scandals about Springer have been following him since the early 70s. In 1971, Cincinnati City Council elected him, but he resigned in 1974. 
When he initially resigned, he said it was because of "very personal family considerations." Back then, he was already married to his wife.

The former politician promoting his podcast, The Jerry Springer Podcast. (Source: Instagram)
But later, he confessed in a press conference to soliciting a prostitute. He voluntarily testified and told his story in court in Kentucky.
He confessed he contacted the FBI because of his conscience. Springer paid the escorts in December 1973 and January 1974 with two personal checks.
However, this did not stain his political career since, in 1975, he won his seat back on the council. In 1998, it was reported that the former politician had another controversy.
But this time, it was with an adult film star named Kendra Jade and her stepmother Kelly. The entire thing was allegedly filmed, but Springer denied all the allegations.
Instead, he said he would take legal actions to protect his privacy and "pursue his legal rights."
Jerry Springer and His Daughter 
From his interviews, it is evident that Springer loves his daughter, Katie, a lot. She is his and his wife's only child.

Jerry Springer posing for a picture at Emory University. (Source: Wikimedia Commons)
She was born without nasal passages, which were later fixed via surgery. She is also deaf in one ear and legally blind. 
However, she is an apple of the eye to Springer. In a 2009 interview with The Guardian, the journalist said he was happiest when Katie was born and married.
In the same interview, he said his most outstanding achievement was being a father.