Is Greg Davies is Still Dating His Girlfriend or Is She His Wife? Gay Rumors Inside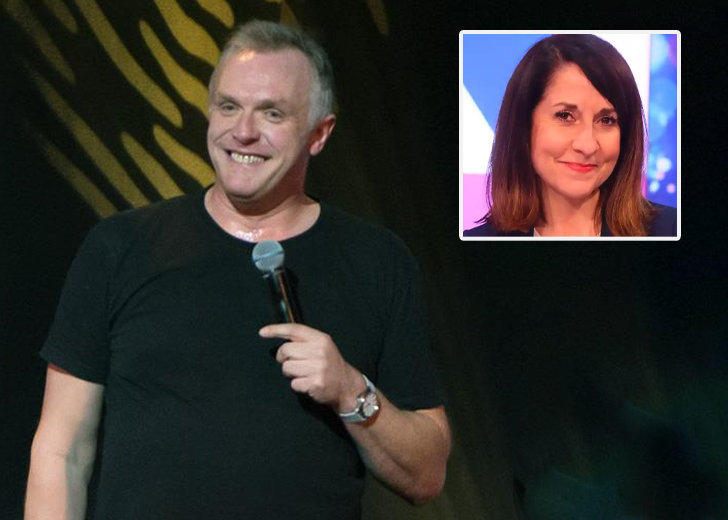 The Taskmaster host Greg Davies is a busy man. Besides the panel game show, he is also busy acting in the sitcom The Cleaner and presenting Never Mind the Buzzcocks.
In January, he toured to showcase his Netflix comedy special You Magnificent Beast. He even wrote a comedy series, Man Down, that aired for four seasons. 
Davies said the series had some resemblance to his personal life, talking about which the St Asaph, Denbighshire native likes to keep his life private. There is not much information about him on his social media accounts.
But we do know that he was dating a politician for a long time till their break up in 2019. After his split up with his former partner, he was not ready for another relationship, and that was the day he felt he wanted to be single for a while now.
During The Graham Norton Show (Via Hello Magazine) the same year, Davies said he had no hopes and had "given up" on romance and love.
He joked about it in the show, mentioning love was not his thing.
Hence, in this article, we delve into detail about Greg Davies' sexuality, marital status and dating status, height, net worth, age, family, and sister. 
Is Greg Davie Gay?
A post in the Reddit forum Bisexual has compiled scenes of Greg Davies showcasing his dialogues and scenes from Taskmaster and other projects that could suggest that he is a bi-sexual. In one of the scenes in the series 3 episode, he even says, " I like women and I like men. It's all good." 
However, the Welsh comedian, actor, presenter, and writer hasn't spoken officially about his sexuality. 
In 2023, Greg Davie credit his ex-girlfriend
In an interview with The Times (Via Hello) in 2023, Davies also said he was grateful to an ex-girlfriend who convinced him to persuade a career in comedy.
He said, "I've been doing comedy for about 15 years now. I always wanted to do it, I just never had thick enough skin. A girlfriend I had while teaching was a pragmatist and always told me that if you want to do something then go for it. So eventually I made the switch. Comedy is definitely where I'm happiest."
However, despite revealing his ex-girlfriend's advice, the actor didn't reveal many things about her name and his personal life. But that hasn't stopped netizens from speculating about him having a wife. 
Because of his low-key life, it isn't easy to understand his relationship status. 
Does Greg Davies Have a Wife?
Davies certainly doesn't have a wife.
The Inbetweeners star has seen some rough days, and his life has not always been a comfortable ride, including his relationship with then-Labour Leadership contender Liz Kendall, who is now a Shadow minister.
The former couple parted near a 2015 general election after dating for eight years.
His fans were disheartened to know that the man who put a smile on everybody's face was living a single life.
Greg Davies and his former partner Kendall had been together for many years, and they lived together. The couple parted ways for good just a few weeks before the general election. 
In an interview with Mirror, Kendall said, "I am not going to be the sort of politician who does all that stuff about their private life because it's very precious to me and important to me that I have that space that's personal and just to me."
She insisted that she and Davies might not be together, but they were really good friends.

Greg Davies' rumored wife, Liz Kendall. (Source: Internet)
Kendall added she was single and was not looking for any partner after her split with Davies.
She further added she and her former partner hold no grudges against one another.
Many presumed Davies and his long-term girlfriend would be husband and wife. 
The actor made no comments and gave no statements about his breakup. He didn't even respond to Kendall's interview and remained silent about the whole situation. 
In 2023, Kendall became the first MP in British history to have a child (son Henry) through surrogacy.
What is Greg Davies' height?
Davies stands at the height of 6 ft 8 in (2.03 m tall), The Inbetweeners actor's towering height has made him classed as "officially disabled" in the eyes of BBC, according to Davies. 
What is Greg Davies' net worth?
Davies has an estimated net worth of $5 million, according to Celebritynetworth.
How old is Greg Davies?
As of now, David is 54 years old. Gregory Daniel Davies was born on 14 May 1968 in St Asaph, Denbighshire, Wales to Welsh parents residing in England at the time. His father drove his mother to the hospital in Wales so that his newborn could be eligible to play rugby for the Wales National Team. Greg has one sibling: a sister.
His family identifies to be the descent of Owain the Great.