Jerry Mathers' Semi-retirement Caused His Marriage with Second Spouse to End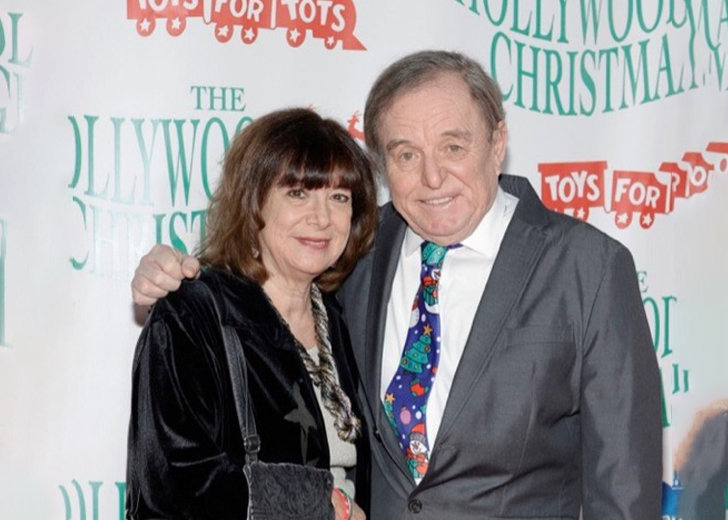 Jerry Mathers is a proud spouse and father. He is the dad of three grown children, who have their own kids and successful lives. 
He enjoys spending time with his family, especially now that he is a grandfather of four, when he is not attending events, conducting cruises with fellow actors, or attending other engagements. 
And while it seems like he has had a merry life, Mathers has had a long journey riddled with troubles pertaining to his romantic life and three spouses.
Jerry Mathers' Troubles With Second Spouse
Mathers played Theodore "Beaver" Cleaver on the 1950s sitcom Leave It to Beaver. After the show, Mathers moved on to a Catholic high school.
He played football, did a six-year stint in the Air National Guard, and majored in Philosophy at Berkeley. 
In 1974, the actor married his first wife, Diana Piatt, whom he met at college.

Jerry Mathers with the cast of Leave it to Beaver. (Source: Instagram)
Unfortunately, their marriage only lasted until 1981. But in the meantime, he had worked as a commercial loan officer at a bank, before moving on to the real estate, where the pay was better.
But after collaborating with his on-screen brother, Tony Dow, in a stage version of the comedy Boeing, Boeing, he returned to acting in 1978.
The show was a great hit, and the actor was quick to do another one, called So Long Stanley. He went on a 10-week nationwide tour for this, and this was when he met his second spouse, Rhonda Gehring. 
She was 26 at the time and working in public relations. Mathers noted that while she had a mind for business, her physicality was a topic for adult discussion. 
In 1983, he signed on to The New Leave It To Beaver with The Disney Channel. While a $43,000 weekly paycheck was heavenly, the demands on weight management and a grueling work schedule were hellish on Mathers. 

Jerry Mathers posing with his first grandchildren. (Source: Instagram)
He was getting up at 3 am to leave for work and returning home at 9 pm. He recalls the time sourly and says that his spouse would greet him clad in only lingerie at the door, but he could only think of food. 
The show concluded in 1989 after 105 episodes, and by this time, all Mathers wanted to do was go on a hiatus, professionally and socially.
It was his early retirement, and he spent more and more time with himself and away from his loved ones.
His friends, however, knew what was best for him and had him come out of his semi-retirement. At the end of this dark tunnel, he emerged healthy and fit and renewed his vows with his wife in the early 1990s.
And while this could have ended in a happy ending, the break had caused several cracks in their relationship. Gehring had met someone else and had an affair behind Mathers' back. 
By 1997, they were divorced, but their marriage was blessed with three children. 

Jerry Mathers with his daughter at her wedding. (Source: Instagram)
Jerry Mathers' Children
Mathers does not have any children with his first spouse or Modnick. His bloodline is continued with Gehring through Noah, Mercedes, and Gretchen. 
Noah is a U.S. Navy veteran and has spent over two decades working as a production sound mixer in cinema and broadcast television. 
Mercedes works in the entertainment sector as well, but not on set. She works as a human resources manager at Netflix and is spouse to Frank Favre, with whom she has two sons. 
Gretchen, 35, is also happily married and the mother of two gorgeous children.
It is quite evident that Mathers enjoys being a grandfather. He is constantly using his Instagram to gush about his little ones.

Jerry Mathers with his third wife, Teresa Modnick, in their wedding outfit. (Source: Instagram)
Jerry Mathers' Third Wife
While his marriage with his second wife ended in shambles, he found love again. Mathers' sister, Susie, is the one to be thanked for here.
Susie introduced the actor to Teresa Modnick in 2005. Modnick is an actress, well known for her roles in films like The Party, History's Mysteries, and And Thou Shalt Honor. 
The pair dated for five years before officially marrying and calling themselves husband and wife.
The pair are together to date, and in January 2021, they celebrated their 10th anniversary.