'Ted Lasso' Star Jeremy Swift on Working Alongside His Wife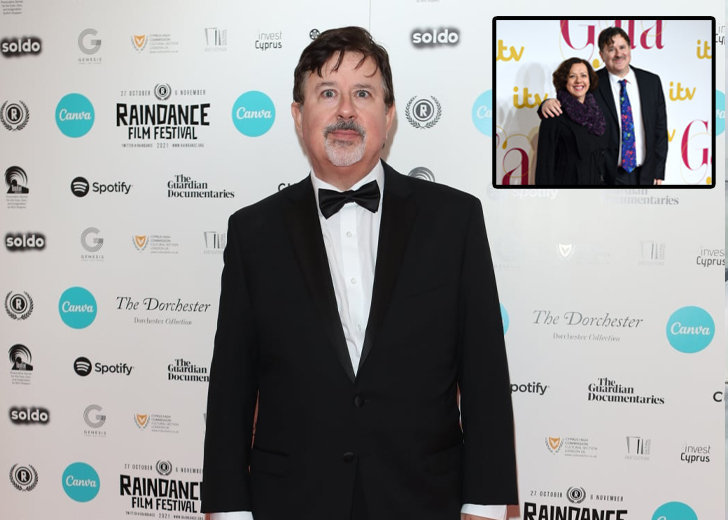 Jeremy Swift plays the adorably awkward yet well-meaning communications director Leslie Higgins on the Emmy sweetheart of a show, Ted Lasso.
What many might not know is that Mary Roscoe, the talented actress who plays his wife Julie on the show, is actually his wife in real life too. 
Swift has certainly not shied away from flaunting his wife's presence on-set on his socials. 
Jeremy Swift Excited to Share Screen with Wife
Take, for instance, the tweet Swift put up on August 27, 2020. 
The actor shared a picture of himself holding his partner's hand as the two of them comfortably rested in the folding chairs on the sets of Ted Lasso. 
"Mary Roscoe, my real-life wife, plays Mrs. Higgins in ep 5 of #TedLasso this week," Swift announced, giving fans that much more incentive to tune in to the broadcast. 

Jeremy Swift and Mary Roscoe on the sets of 'Ted Lasso' (Source: Twitter)
Of course, the actor wouldn't complete the post without gushing over his spouse a little. 
"She is an actor of huge experience I should add!" Swift shared. 
About a year later, on August 13, 2021, Swift took to Instagram to make a similar announcement. 
The post came with a snap of the couple posing on a porch, back to back, with toy guns. 
Alongside the picture, the actor made it official that Roscoe would be joining the show for the second season as well. 
Jeremy Swift on How His Wife Got the Part
Talking about how Swift and his spouse ended up working on the same project, he told the Los Angeles Times that the brilliant matchup was the show's co-creator Bill Lawrence's doing. 
"Lawrence had asked, 'How well do you get on with your wife?' I said, 'Well, we're not divorced,'" Swift recalled. 
Only then did Lawrence break the news to Swift. 
Apparently, the production had been considering Roscoe for casting for a while before they asked for Swift's opinion. 
"[Lawrence] said, 'We've seen her [for a casting], we think she's lovely and we'd like her to play your wife in an episode," Swift added. 
Thirty Years & Counting
Swift and Roscoe have been married for almost three decades as of this writing. 
On Valentine's Day 2022, Swift made a post over on Instagram where he shared a picture of himself and his lovely spouse. 
As per reports from Romper, the couple tied the knot in 1992 after they met in a play there were both working on. 
So, needless to say, Ted Lasso isn't the only time that the adorable duo has come together for a creative endeavor. 
Roscoe has also been in movies like Paddington and Les Miserables.
The couple is also parents to two children. They have a daughter named Stacey, who they adopted early on, and in January 2019, Stacey welcomed her own child, making Swift a grandfather to a little grandson.
They also have a son Alfie, also adopted. 
Swift revealed during a 2017 interview that neither of his children was less than impressed with his musical abilities.
While his son liked one of his songs, his daughter didn't even have that. 
In case you missed it, Swift, the son of two music teachers, also played his own double bass on Ted Lasso.