Jeremy Strong Met His Wife Emma Wall during the 2012 Hurricane Sandy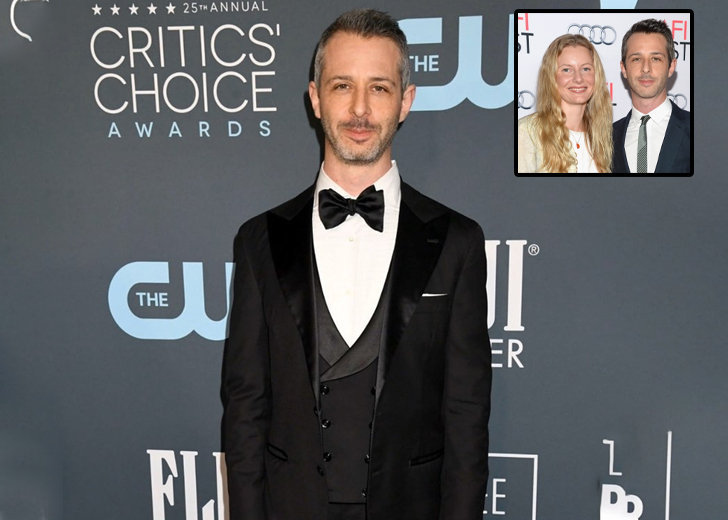 The Succession star Jeremy Strong is always turning heads with his stunning performance. Yet many don't know much about his romantic ventures.
Very little of his family drama is known since he keeps his life private. Moreover, he does not have public social media, making it harder for his fans and followers to keep up with his life.    
Married in 2016 to wife Emma Wall, proud parents to three kids, the family had quite an interesting start. But, before storming headlines, their dating life brewed up in a storm of its own.
Jeremy Strong Met His Wife in Hurricane Sandy
Though a scary setting, the lovers first crossed eyes at a party in New York in 2012. It was because Hurricane Sandy was affecting the Big Apple.

Jeremy Strong posing for a photo. (Souce: Instagram)
While the forces of nature might have tried to stop them, love found a way regardless. They met each other at the party through a mutual friend.
The pair dated for four years before getting married to each other. They tied the knot in 2016 in Denmark quite grandly at a castle. "I find it a very sane and gentle place," he said about the place.
Since his wife is half-Danish, the couple resides in both USA and Denmark. They own a home in Copenhagen while mostly living in their Brooklyn apartments.
They also have a vacation house in Tisvilde, Denmark. While the COIVD-19 pandemic was terrorizing the world, Strong and his wife found their haven in Wall's family farmhouse in Denmark.
They spent their days chopping wood and vacuuming spiders, with the kids and family, a well-owed break for the star amidst his busy schedule.
Jeremy Strong's Supporting Family
His career is hectic, but still, Strong finds time for his family. According to his wife, he does a good job maintaining a healthy balance between his work and family.
The pair share three kids together. Their first daughter, Ingrid, was born in April 2018.
The couple was blessed with their second daughter Clara in November 2019. They welcomed their third daughter, whose name they have not disclosed yet, in September 2018. 
The Strong family usually split time between Denmark and New York. They do so to expose their family to see both cultures.

Jeremy Strong posing for a picture, showing off his Emmy. (Souce: Instagram)
The Gentlemen star may still believe that he senses a shift in Wall's perception of him between work and home. Saying he doesn't believe in balance but instead in extremity.
But Wall stays supportive and, along with the kids, creates a loving environment for both of them and the kids to thrive as well.
His partner is a child psychiatrist herself, they work together to make sure their kids get the care they need, and in them, Strong and his wife find each other as well.
Through pandemics and hurricanes, the couple has stayed strong and stuck together in thick and thin, supporting each other and assuring each other at times of insecurity.
They keep their family together while still choosing to keep the details under wraps. However, the little we know definitely tells us that the Strongs most definitely have a strong bond.