Jeremy Meeks Opens up about His Dark Childhood and Family's History with Crime
"Both of my parents were heroin addicts," Meeks says.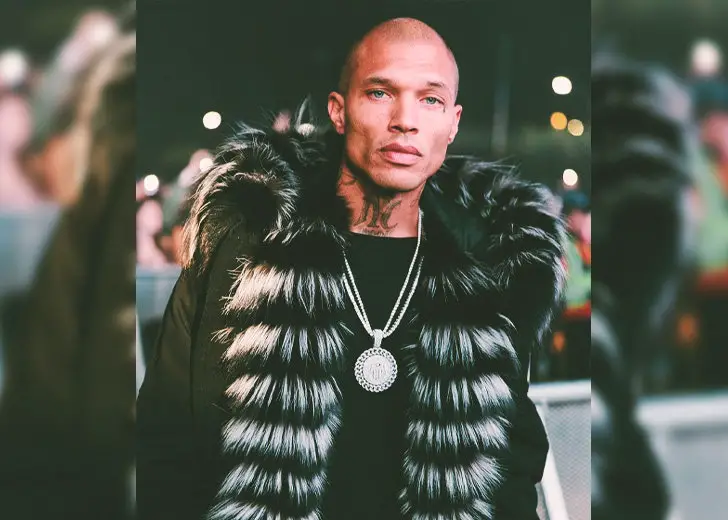 Jeremy Meeks, who rose to fame after his mugshot went viral in 2014, had a very dark childhood.
The fashion model was born on February 7, 1984, in Washington during a crack cocaine pandemic. 
During an interview with Chelsea Grayson in September 2019, Jeremy opened up about his parents and dark upbringing. His mother, Katherine Angier, was addicted to drugs, and his father, Raymond Meeks, brutally murdered a family friend.
"Both of my parents were heroin addicts. I was a heroin baby," he revealed. "So, my childhood was very, very dark. My dad committed a murder when I was nine months old and killed my mum's best friend."
In addition, he also has an older half-brother, Emery, a half-sister, Carmella, and a brother, Bryan Varela, with the former two reportedly having criminal records for minor thefts.
Jeremy Meeks' Father Murdered a Family Friend: Report
A report by Dailymail stated Raymond stabbed Laura Leon-Melara 36 times and strangled her in a sustained five-hour attack. He went to jail for his crimes in 1984.
During the investigation, a pearl-handled hunting knife, the alleged murder weapon, was found in a bin behind apartments where he was staying. In addition, a neighbor identified Raymond as a man knocking on doors looking for Laura in the house before her death.
Raymond worked on and off as a mechanic before committing murder and was tried twice, with the first trial ending in a hung jury and the second ending with a guilty verdict for first-degree murder. He was subsequently given a 45-year sentence by Pierce County Superior Court Judge J. Kelley Arnold.
"He's a good looking boy and I am proud of him. To me, he was famous when he was born. He's beautiful and I love him," Raymond said of his son when he was in jail.
Jeremy's father was eventually released in September 2017 after serving 33 years in jail.
Katherine Angier Has Been in Prison Numerous Times
The fashion model, Kathy, also has a lengthy criminal record for a string of offenses and has been in prison many times. Because of that, Jeremy was raised mainly by her older sister, Leanna, from the age of 12.
But when he became an adult, she returned to his life and started living together with him and his ex-wife, Melissa Meeks.
In a 2015 interview with Dailymail, she admitted she looked after her grandchildren while Jeremy and his ex-wife worked for their living.
"We just want his life to be normal. Who knows what this is going to do to his life. This could mess it all up," she added, referring to the overnight limelight Jeremy received with his viral mugshot snap.
Jeremy, who now manages a very luxurious and respectable life, usually posts pictures of his mother on social media handles, showing his love for her.
For instance, he shared a snap of him kissing his mother on her forehead on Mother's Day in 2020. "Happy Mother's Day Momma...I love you to the moon and bacc...LOVE. You're baby boy JR," he wrote in the caption.
At present, it is also evident that he has come a long way from his dark childhood when he had to live away from his parents because of their criminal record.