Jeremy Allen White and Wife Addison Timlin's Relationship Details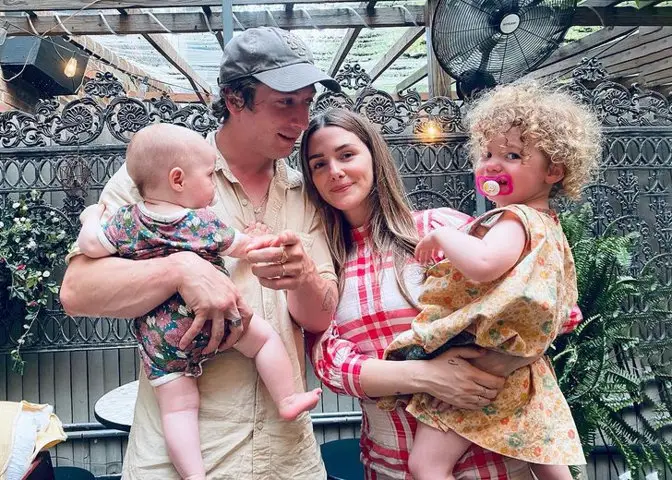 Jeremy Allen White and wife Addison Timlin have been married for over two years, welcomed two kids, and founded a picture-perfect family. 
Their romance blossomed almost a decade after they met at the set of the 2008 thriller Afterschool. They were in their late teens at the moment. 
In the following years, they remained best friends. And their 15-year-old friendship took a hard turn to romance after Timlin broke up with his then-girlfriend, Emma Greenwell.
Here's a quick rundown on their relationship, from friends to spouses. 
Jeremy Allen White Got Engaged in 2019
White and Timlin started dating around 2016. Within two years into their relationship, Timlin announced she was pregnant with their first child. 
"Today is my birthday, but my wish already came true," Timlin captioned a picture, showcasing her budding baby bump. 
Following the announcement, White and his girlfriend welcomed their first child, daughter Ezer Billie, on August 20, 2018. And six months later, they secretly got engaged. 
Details on Jeremy Allen White's Wedding
White married his fiancee through an intimate courthouse wedding in Beverly Hills, California, on October 18, 2019, days before their daughter's first birthday. 
The famed actor rocked a white shirt, a suit, and black leather shoes while his partner donned a short white wedding dress.
The pair exchanged their vows in front of a close group of family members and friends including, Dakota Johnson and Chris Martin. 
And one of the special members to witness the ceremony was their daughter, who wore a white onesie and cute black shoes. 

Jeremy Allen White and Addison Timlin with their daughter on their wedding day. (Photo: Addison Timlin/Instagram)
After the ceremony, White provided a glimpse of their wedding through Instagram.
He posted a picture of himself, his wife, and their daughter, writing "The big day" in the caption. 
Timlin followed suit, uploading a picture that saw her posing with her husband in matching denim jackets. The jackets had "Til Death" and their nicknames, "Buddy and Billie," written on them. 
Jeremy Allen White's Wife Welcomed Baby No. 2 in 2020
In October 2020, White and his wife announced they were expecting their second child. 
"I love our little growing family more than words," Timlin wrote in the caption of a family photo that saw her holding her growing baby pod. 
Two months later, she took to Instagram to reveal she gave birth to their second daughter, Dolores Wild, on December 12, 2020. 

Jeremy Allen White, his wife, and their two daughters. (Photo: Addison Timlin/Instagram)
"She is the answer to 1000 prayers and we are in love with her," Timlin began her lengthy message.
She thanked her mother and her sister for taking care of her family while waiting in the hospital for her daughter to join the family. 
The mother-of-two also thanked the medical staff and her eldest daughter for her patience and wisdom. At the end of her statement, Timlin mentioned her husband, stating, "You are everything. We did it baby."
With two adorable daughters and a loving wife by his side, White is seemingly having the best time of his life. And he is equally grateful to have Tomlin as his spouse. 
On her 29th birthday, White posted a throwback picture and wished her a happy birthday. Most important, he added, "I love you forever," and thanked her "for all you do."