A Look Back at the Lives of Former 'Jeopardy!' Hosts: Art Fleming and Alex Trebek
The trailblazers of the TV game-show landscape!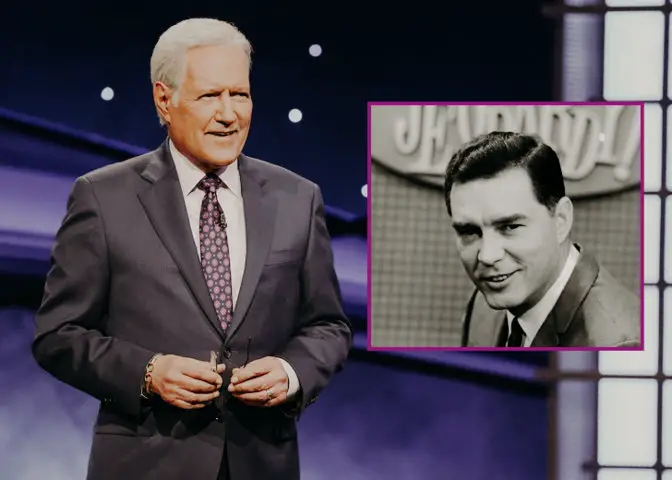 One of the longest-running shows in television history, Jeopardy! is a pop culture phenomenon with over 8300 episodes and millions of worldwide audiences. 
The game show became a fan favorite for its unique twist, where the contestants have to supply trivia questions to the provided answers. While the game's unusual yet entertaining approach can be accredited to its fame, its hosts also have their part in making it affable. 
And without a doubt, presenters who upped their game were Art Fleming and Alex Trebek.
Art Fleming: A Trailblazer 
Arthur Fleming Fazzin, professionally known as Art Fleming, was the first host of Jeopardy!. He presented the show from 1964 to 1975, before NBC canceled the first iteration.
In 1978, he returned to the revamped version of the game, The All New Jeopardy, hosting the revival for two years.
Born on May 1, 1924, to immigrant parents, the legendary television personality was, however, more than just a host — an accomplished actor, athlete, radio personality, and army veteran.
His career in the entertainment industry started when he made his acting debut in a Broadway show at four. But he didn't jump right into Hollywood. 
Instead, he moved ahead as an athlete, playing football as a varsity letter in James Monroe High School. He continued playing the game at the Cornwell and Colgate Universities and even joined the Water Polo team in both institutions. 
After college, Fleming joined the U.S. Navy, serving as a patrol bomber pilot in the Atlantic for three and a half years during World War II. 
After the end of his tenure, he started his career as an announcer at a radio station in North Carolina. Eventually, he moved into the acting industry, debuting as a stunt double in Man Against Crime. 
The New York Native got his breakthrough as Jeremy Pitt in the TV series, The Californians, in 1958. A year later, he landed his career-defining role as Ken Franklin in International Detective. 
Along with acting gigs, Fleming also pocketed commercials and hosting jobs. He presented a quiz program, College Bowl, for seven years.  
Admittedly, he has appeared in over 5000 television and radio episodes and acted in 48 movies, excluding stage plays and commercials. 
With an undebatable dominance over the entertainment industry, Fleming shaped the image and voice for Jeopardy! He set the bar high for all the future hosts. 
Sadly, he succumbed to pancreatic cancer on April 25, 1990, at his home in Crystal River. 
The Life of a Genius, Alex Trebek 
Trebek was synonymous with Jeopardy!, a recognition he achieved with years of perseverance, consistency, and hard work.  
Born George Alexander Trebek on July 22, 1940, the fan-favorite host first attended a military college. Later, he dropped out and studied philosophy at the University of Ottawa. 
While in college, he got a job as a radio announcer at the Canadian Broadcasting Corporation. He continued his service for 12 years.
Finally, he shifted to television in the early 1970s, hosting game shows such as Reach for the Top and Jackpot. Then, in 1973, he started hosting The Wizard of Odds. 
Despite landing multiple gigs, Trebek has never found the kind of success that came in his life through Jeopardy!' in 1984. He skyrocketed to fame as soon as he accepted producer Merv Griffin's offer to anchor the show. 
Sony Pictures Television aired the show as a daily syndicate on September 10, 1984. Six years later, the program drew over 15 million nightly audiences through nearly 200 stations on average.
Throughout its 37 seasons, Trebek hosted over 8200 episodes in 37 seasons, earning a Guinness World Record for the maximum number of episodes hosted by the same presenter. 
Thanks to his engaging and impeccable delivery of answers and questions, he pocketed 32 Daytime Emmy Award nominations and won six among them for hosting Jeopardy! 
That being said, the television anchor didn't limit himself to just hosting. He acted in movies and TV series such as Rain Man, Cheers, Golden Girls, albeit playing himself in every project. 
Trebek actively took part in philanthropic activities away from the spotlight, partaking in USO Tours to visit US troops overseas. In addition, he became a spokesperson for humanitarian aid organizations like WorldVision International. 
He even created scholarships, sponsored lectures, and constructed an Alumni Hall for the University of Ottawa. Typical of his kind heart, he made a joint donation with his wife Jean for Hope of the Valley Rescue Mission in San Fernando Valley in 2020. 
Courtesy of his humanitarian work coupled with his genius, Trebek earned the second-highest civilian honor of his native country, the title of an officer of the Order of Canada. 
The presenter's brilliancy is also transparent from the fact that he is one of the few luminaries to be honored with a star on both the Canadian Walk of Fame and Hollywood Walk of Fame. 
With a legacy carved for generations to come, Trebek took his breaths peacefully at his home in Los Angeles on November 8, 2020. Coincidentally, he succumbed to pancreatic cancer, just like Fleming. 
The popular game-show host first disclosed the diagnosis of stage 4 cancer in March  2019, four months after extending the contract with Sony Pictures Television that ran till 2022. 
Even with the deterioration in health, the Greater Sudbury native filmed the last episode of the show at the end of October 2020.
Undoubtedly, he loved the show, just like how his son Matt Trebek described while accepting a posthumous Daytime Emmy on behalf of his father in March 2021. 
For as long as we can remember, he was always so proud to be a part of 'Jeopardy!', to work on a show that was based on knowledge, risk and the challenge — people had to think. He loved every bit of it. 
On the same occasion, his daughter Emily recalled how Trebek got excited to work even during his battle with cancer. Without question, Trebek embodied perseverance. He loved what he did with all his heart and engaged millions of viewers. 
The game-show landscape will forever be indebted to both the dignitaries, Fleming and Trebek, for introducing the value of a genuine presenter. And it will forever miss their presence.