Jenny Popach's Family Dragged over Viral TikTok with Parents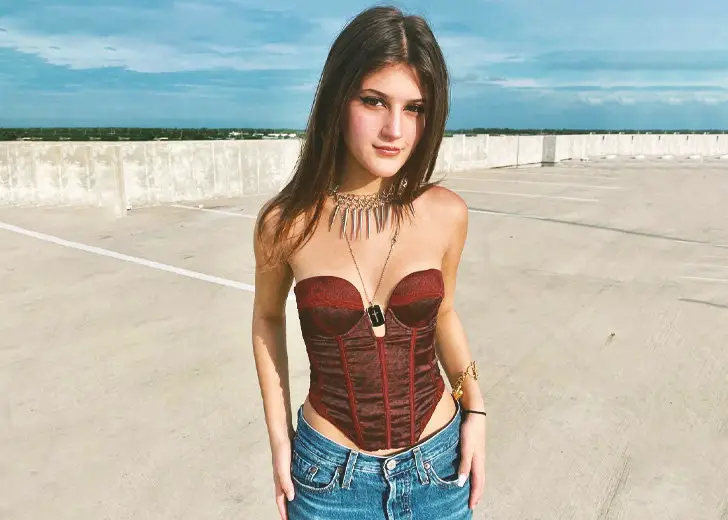 Jenny Popach's recent video with her parents went viral, and netizens have mixed reactions to it.
Last week, the TikTok star, who goes by That girl Maria, posted a dance video on the video-sharing platform featuring her family. The family danced on a remixed version of Akon's single 'Bananza (Belly Dancer).'
The video — apparently filmed inside a room — first saw Popach showing her moves, but her father soon came from behind, grabbed her hands, and sidelined her. He then did the same with his wife [Popach's mom], who was happily showing her moves, too.
Fans Reaction to Jenny Popach's Parents after the Viral Video
The somewhat unusual video immediately caught the attention of many viewers, helping the video gather over 79 million views and 8 million likes in the first five days.
The video also received thousands of mixed comments. Some backed the father's effort to stop his reportedly 15-year-old daughter from performing alluring moves, while some dragged the whole family and critiqued them for bad parenting.
"At least one of them isn't insane," one commented, supporting the TikTok star's father. Another shared similar thinking, as they wrote, "At least someone is being right."
"He's a good dad," someone added, while another comment read, "we love the way ur dad moves you out of the way."
Someone critiqued, "Y'all she's 15, let her do what she want damn, and idk why y'all keep assuming her dad is being weird for grabbing her that way."
"That was a little aggressive," another chimed, implying the father was being too strict on his young daughter. 
Meanwhile, many comments also stated Popach, whose real name is Roselie Arritola, looked like Kylie Jenner before her reported plastic surgery.
In the following days, she posted a similar video multiple times, and fans again responded similarly.
Her Brother Was Also in the Mix of Varied Remarks
After her parents, netizens also commented various things on the videos featuring Popach and her young brother.
Some also wrote that the two were a good-looking couple, assuming the rising social media star and her brother were boyfriend and girlfriend. In the wake of the situation, she recently took to her TikTok to clarify that they are not a couple but siblings.
Jenny Popach's Mom Is TikTok Famous, Too!
Popach's mother, Maria, is famous on her own. She independently manages a TikTok handle, where she often posts videos with her daughter and her sons and has almost 200K followers.
According to Seventeen, the mother-daughter duo also had a heated online argument back in April 2020. The drama started when Maria posted a video crying, stating her daughter treated her poorly.
"You know what she reminds me of? Have you ever seen Charlie and the Chocolate Factory? That little girl, how she's like, 'I want those squirrels, I want those squirrels, daddy.' She wants what she wants at the moment," the mother said in a now-deleted TikTok. "Everyone's got to cater to her and I've been doing that [expletive] and I'm tired of that [expletive]."
Sometime later, Maria confirmed that she and her daughter had talked things out and were on better terms.