Jennifer Grey Doesn't Give Much Importance to Her Age Now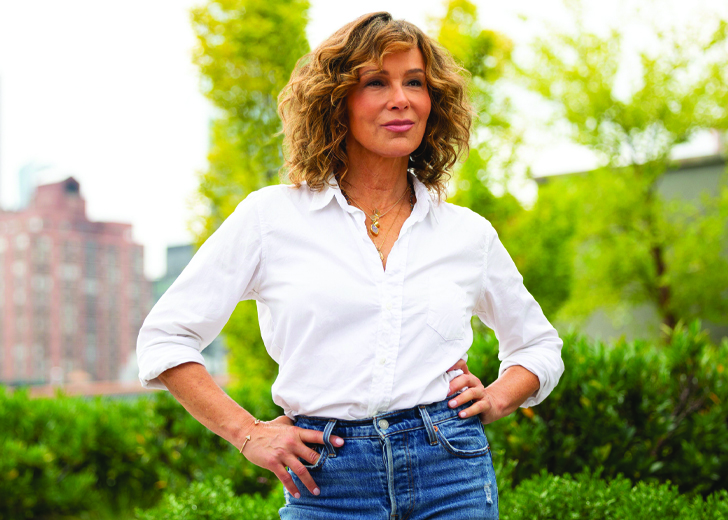 Jennifer Grey is still alive and well, even after years of pain and suffering due to a near-fatal accident in the 1980s. Now 62, she is more conscious about her health and aging than ever.
More recently, she has been thinking of her growing age and the changes that come with it. Grey realized she was unlike herself as she grew older.
She has even written a book about all these and other thoughts about her view of self-worth and sense of self over the years.
Jennifer Grey Is Now Revisiting Ideas about Ageism
Grey turned 62 on March 26, 2022. A few days after her birthday, on April 2, 2022, she took to Instagram to post an unedited picture of herself, accompanied by a long, insightful caption.
"this is me, filter free, as i am," she wrote at the start of the caption. She then revealed what had been on her mind recently.

Jennifer Grey, now 62, is rethinking and learning about ageism and the myths people believe about old age. (Photo: Jennifer Grey/Instagram)
"i've just had a birthday and my age and my ideas about aging have naturally been top of mind," Grey continued. With age, she realized she was being "less than kind" to herself.
She was also holding herself to "some pretty lame standards of self appraisal," the ones she did not believe to be true. These were despite having a solid idea of what she understood to be important to her.
Grey had been dealing with thoughts of aging and how that changes people. "my chronological age kicked up some old ideas about my depreciating value," she said.
The actress also talked about how a recent podcast from We Can Do Hard Things helped her re-perk her ideas surrounding age and the lies about getting older.
Sharing the things she learned from the podcast, Grey said that getting unhappy with age was a lie.
"the truth that we actually get happier the older we get!" she wrote. The podcast had also taught her that believing in age-related myths had negative effects on people's health.
Her memoir, Out of the Corner, too, provides insight into her views on her growing age. She has written about how she reclaimed her sense of self over the years.
She has never attached too much importance to age. "I really don't give too much weight to chronological age, even though the world wants to tell you it means something," she told People in 2020.
Age was an abstract thing to her, as she knew many people who were young at heart despite old in numbers. To the actress, it was "all about how you live, not how long you live."
Jennifer Grey's Health Scares over the Years
Grey's health nightmares began right after her most-famous role — Frances "Baby" Houseman in the 1987 movie Dirty Dancing.
She played a dancer in the movie and did a lot of gutsy dance moves alongside Patrick Swayze. But it wasn't her dance that caused her issues; it was an accident after the filming.
Nine days before Dirty Dancing was premiered, she got into a car crash in Ireland. She survived, and so did her boyfriend-at-the-time, Matthew Broderick.
But, the accident left her with chronic pain that would last for decades. She ripped several ligaments in the back of her neck, and even though she recovered externally, she had headaches and spasms when moving her shoulders.
Her neck compressed as the years went by. She tried everything possible — massage, heat pads, ice, anti-inflammatories — but nothing worked for long.
"I had been suffering for so long and didn't fully realize how pain had taken control of my life," she confessed later. She had to stop doing things she loved.
Grey was also in denial about her condition because the pain would come and go.
In 2009, she took part in Dancing With The Stars. It seemed like she had recovered, at least on the outside.
But, while going through a routine checkup for the show, the results came back much worse than expected. She needed immediate surgery on her neck.
She had dramatic angulation — a sharp bend in her neck — and one vertebra had slipped, causing a blockage on the spinal cord canal.
There was no fluid around Grey's spinal cord, and even a minor accident while dancing could have paralyzed her. Her doctor, Dr. Robert Bray, forbade her from dancing, sports, and even driving.
She underwent a surgery called anterior fusion, where the doctors removed the slipped disc and repositioned her neck, and put in a titanium plate to keep the joint in position.
Right after the spinal cord surgeries, another x-ray found a cancerous growth in her thyroid. She recovered from that, too, before it could spread to other areas.
With all these behind her, she competed on Dancing With The Stars, even winning the show in 2010.
As for now, Grey is still acting. In recent years, she has appeared on Grey's Anatomy, The Conners, and Dollface, to name a few projects.