How Many Dogs Does Jeffree Star Have? Know His Paw-Mazing Family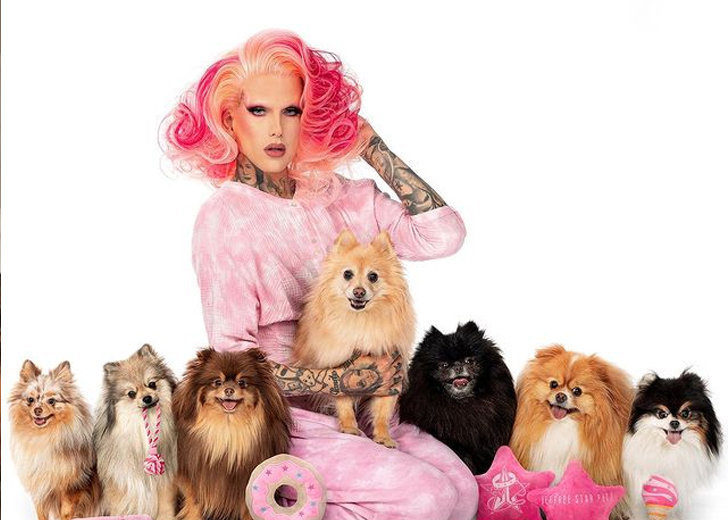 Anyone who knows about Jeffree Star associates him with two things - makeup and dogs. 
Star adores animals and has confessed that he loves them more than he loves people. Looking at his videos and Instagram, it is evident that he loves his fur babies a lot. 
He currently has seven Pomeranians who live with him at his Wyoming ranch. Previously, they all lived in his $14 million Hidden Hills mansion. 
Star is obsessed with his pets and travels around the world with them. All of his dogs' names start with the letter 'D.'
Moreover, he even named some of his lipsticks after them. He also launched another brand named Jeffree Star Pets, where his fur babies model for toys and accessories. 
He had pets since he was young and got his first Pomeranian during his MySpace Era. Since he has been in the limelight, Star has had nine dogs.
Here is everything about his four-legged babies. 

Jeffree Star with Diamond. (Source: Instagram)
Jeffree Star's First Dog — Diamond
Star's first dog's name was Diamond. She was a white Pomeranian that had been with the beauty mogul since he was an influencer on MySpace.
He often gushed how Diamond had been a crucial part of his life. Similarly, he often mentioned how Diamond had been with him through his life changes. 
This was because she went from traveling all over the USA on a tour bus with Star when he was a musician to traveling in a private jet when he was a millionaire. 
Diamond has her lipstick shade, which was a part of The Star Family Collection of Jeffree Star Cosmetics. Star was very attached to his first fur baby and was devastated when Diamond passed away.
He announced her death via Instagram and YouTube. In June 2019, he made a video with his then-boyfriend, Nathan Schwandt, dedicated to Diamond. 
Diva 
Diva is Star's oldest pup out of the seven. He is a tan Pomeranian who turned 12 as of April 2021. 
Since he is old, he often gets sick. Star keeps his fans updated about his fur baby's health via Instagram and Twitter. 

Jeffree Star with his dogs for the promotional shoot of his pet brand. (Source: Instagram)
In 2020, Star revealed that Diva had cancer via a YouTube video titled, 'I Have Some REALLY Bad News.' However, after the operation, cancer seems to be under control. 
He opted not to go for the Radiation Chemotherapy for Diva because the surgery activated diabetes. As a result, Diva has to get "Vetsulin" injections every morning and night. 
Amidst Diva's medical complications, Star was once accused of mistreatment by people on Twitter. However, he slammed the critics and said Diva was ill because of his age, not mistreatment. 
Daddy 
Star got Daddy, a wolf-sable Pomeranian, when he was still with Schwandt. He often shared that Daddy was more like Schwandt's baby than his. 
This was because Schwandt had trained Daddy and slept with him when he was young. Unfortunately, Daddy is no more. 
The couple lost him a couple of weeks after Diamond's death. They announced Daddy passing away in October 2020. 
Star has pointed out in the past that losing two dogs took a toll on his mental health and relationship with Schwandt. 
Drama, Delicious, and Da Vinci
Drama is Star's five-year-old Pomeranian, who looks very similar to Diva. The beauty mogul got Drama in 2018 and celebrates her birthday every year on Halloween. 

Jeffree Star with his dogs. (Source: Instagram)
He has given Drama his last name and often calls her "Drama Lynn." Delicious is Star's only pure black Pomeranian. He also has the name 'Delicious' tattooed on his neck. 
Delicious is often seen arguing with Star's other dog, Da Vinci. He was the last dog the YouTuber got with Schwandt. 
The pair announced getting Da Vinci on Star's YouTube channel. He lovingly calls Da Vinci "Vinch" and often films the dog peeing since "Vinch" pees while doing a headstand. 
Both Delicious and Da Vinci are the most active of all the other dogs.
Dessert, Dominatrix and Donatella
Dessert, Dominatrix, and Donatella are the newcomers to the Star family. Star got Dessert and Dominatrix together in April 2020. Dominatrix or "Dommy" looks exactly like Daddy, since the two are related. 
Donatella is the beauty mogul's last dog, who he got in June 2021. As usual, he also announced Donatella's arrival on his YouTube channel. 
However, unlike his other dogs, Donatella did not get to stay in L.A. for a long time. Before she came, Star had already planned to move to his Wyoming ranch, so he took Donatella there.