Why Was Jeff Lewis and Gage Edward's Daughter Rejected From Private School?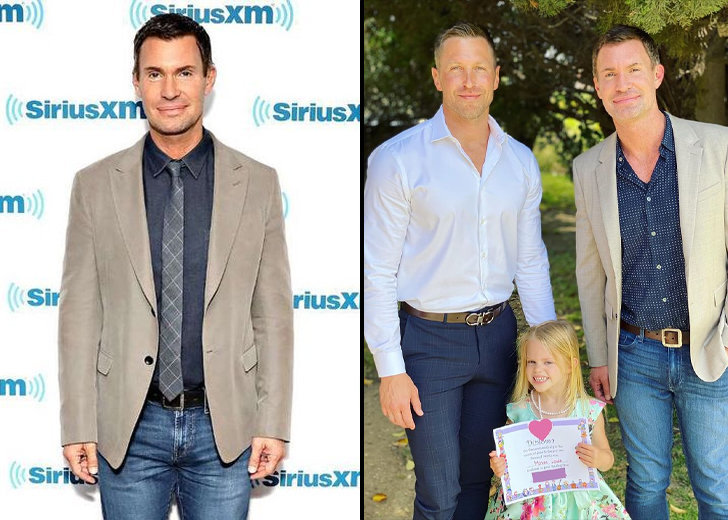 In December 2021, Jeff Lewis opened up about how his actions affected his daughter, Monroe Christine Lewis, during an episode on his SiriusXM radio show Jeff Lewis Live. 
The radio host revealed that his five-year-old daughter Monroe, whom he shared with his ex Gage Edward, was rejected by a private school.
Although he did not explicitly reveal the reasons, he had faced considerable backlash ever since his "superspreader" holiday party. 
The party had taken place at Lea Black's home and included guests such as his co-host, Megan Weaver, his assistant Shane Douglas, and Shahs of Sunset star Mercedes Javid Feight.
Lewis shared that they had taken precautions and made sure everyone was vaccinated, but despite everything, most of them ended up contracting covid. 
But he regretted nothing and said, "That was an epic party. It was so worth almost dying for."
He explained on the episode that he was now afraid that the criticism would affect the other "four or five" private school applications.  
He said that one of the schools had already replied, saying they were not interested in his Monroe because they knew who he was. 
Jeff Lewis' Daughter Was Upset With Him
A few weeks later, Lewis opened up about another incident on his radio show. 
He recounted the emotional conversation he had with his child where she threatened not to talk to him again until she's "a grownup." 
According to the former Flipping Out star, Monroe had been upset at him after she had found out that he had shared with his listeners about her rejection from a private school. 
Before the situation escalated further, Lewis clarified that he never insinuated Monroe's rejection had anything to do with the party, as she had been rejected before the party. 

Jeff Lewis and Gage Edward's daughter (Source: Jeff Lewis/Instagram)
He added that his ex, who was unhappy about the rejection, had told their child she might have to attend Catholic School with nuns if she didn't get into private schools. 
"So she called me crying, and she was pretty mad. I didn't expect her to say this so young, but she said if I continue to talk about her she will not see me again until she's a grownup," shared Lewis.
After the phone conversation, Lewis texted his ex telling him not to turn Monroe against him and use her to take out his anger on him. 
Gage Edward Responded to Jeff Lewis
Immediately after, Edward responded to Lewis' comments. 
He took to his Instagram story on accusing the radio host of "leveraging" their daughter for more attention on his radio show.
Edward noted Lewis had spread false and untrue stories with exaggerations about Monroe, suggesting that it was a calculated ploy for more media attention. 
"The person you are leveraging however is five years old. It's gross. She has a right to privacy. Enough is enough," he added.
The former couple had welcomed Monroe via surrogate in October 2016 after previous adoption attempts fell through. 
Unfortunately, the couple separated in 2019, which led to an intense and contentious custody battle that lasted over two years. 
In May 2021, Us Weekly reported that the duo had dropped lawsuits against each other and agreed to share custody of their daughter.
Lewis told the outlet he and his ex had been getting along really well for Monroe's sake.