JC Caylen and Girlfriend Chelsey Amaro Are Back Together after Break Up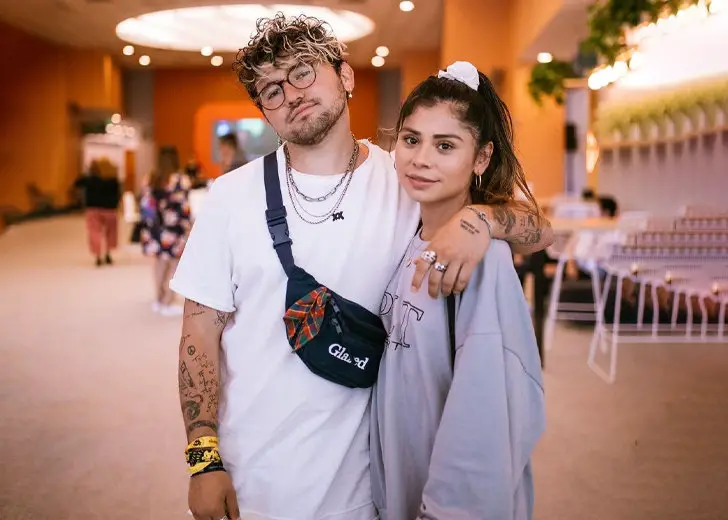 JC Caylen and his girlfriend Chelsey Amaro, who had announced their break up in December 2020, are allegedly back together.
On Valentine's Day 2022, both took to Instagram and shared pictures of them celebrating the special day together.
The famed YouTube star shared a series of the pair's pictures which were apparently clicked recently.
In the first picture of the slide, Caylen hugged Amaro from behind while she held a glass in one hand and took a mirror selfie with her left hand.
They also sported birthday hats on their heads.
On the other hand, Amaro, who is also a social media star, dedicated another series of pictures to her boyfriend, with the first image showing balloons that read, "I LOVE YOU."
When Did JC Caylen and Chelsey Amaro Get Back Together?
In the wake of the situation, while many fans are happy about the couple's reunion, some are also inquiring when Caylen and Amaro actually got back together.
"When did you guys get back together?" a fan asked in Amaro's comments section.
However, no details have been shared on the same by the couple or their reps as of this writing.
That said, the two were allegedly on talking terms even after their alleged break up more than a year ago.
They even occasionally came together and collaborated for YouTube videos post break up.

JC Caylen and Chelsey Amaro kissing each other. (Photo: Instagram)
For instance, they were spotted together on Brian Terada's video — titled 'Questions You Shouldn't Ask Your Ex ft. Chelsey, JC, and David' — in October 2021.
Later, in December 2021, they paired up and battled against a celebrity couple, Crawford Collins and Nezza, to play 'Which Couple Knows Each Other Best?' on Terada's channel.
JC Caylen and Chelsey Amaro's Break Up
After dating for more than two years, Caylen and Amaro shocked their fans when they announced their separation in 2020.
In his tweet, Caylen, who has starred in the YouTube series Reality House, expressed his sadness over ending things with his girlfriend.
He wrote, "can't believe I have to actually tweet this but YES, Chelsey & I broke up. it's been like this for a bit now [sic]."
At the time, he also added that they had blocked each other on social media because they didn't want to know what the other was up to in an attempt to make the break up easier.
The news was a hard pill to swallow for fans, too, as they had admired the pair as a power couple for a long time.
Fans Are Delighted That They Got Back Together
The fans of the couple are absolutely delighted since finding out their beloved couple are back together after a long break up.
Expressing the happiness, one fan wrote, "I love this so much, trying not to cry! So happy for the both of you, beautiful people."
"Your relationship is just so beautiful... God bless you guys, love you both," someone similarly commented on Amaro's post.
A fangirl even implied that she liked Caylen as a boyfriend while writing, "where can I find a man like jc caylen."
Now that the couple is together, here's hoping the two understand each other and take the relationship to a whole new level.