Is Nina Senicar Jay Ellis' Wife? The Couple's Low Key Relationship and Recent Accusation
"I'm in a very happy relationship," Ellis says.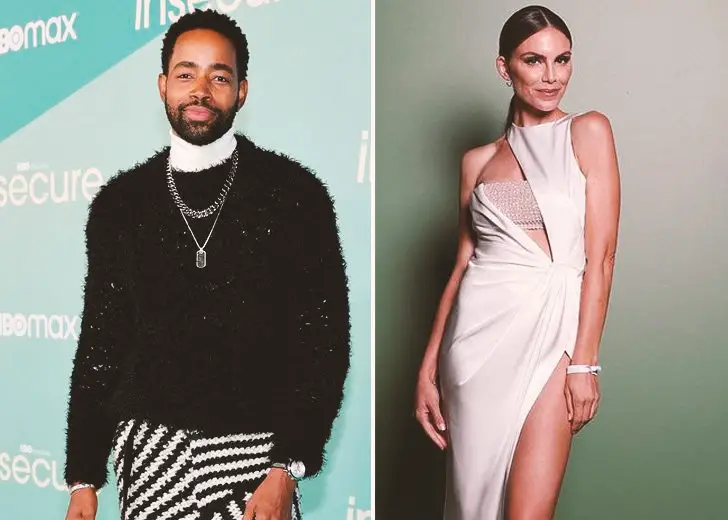 Jay Ellis and his longtime partner Nina Senicar are a happy couple. Together, the two also have a daughter, Nora Grace, who has brought more happiness to the small family.
But there are a lot of questions surrounding their relationship. One of the most asked questions on the internet is regarding whether the Insecure actor and his actress partner are married.
Well, some internet outlets have lately referred to the Serbian actress as Ellis' wife, implying the couple has been secretly married for a while. That said, there has been no official word from either Ellis or Senicar confirming they are married to each other so far.
Accused of Keeping 'His White Wife off His Instagram Page'
Some online publications and netizens have recently accused the actor of purposefully keeping "his white wife off his Instagram page."
The accusation was first made by a Twitter user, who took to the platform to express her disappointment.
Here is the tweet:
Nah I just can't get over I just know for a fact Jay Ellis publicist be telling him to keep his white wife off his Instagram page 😭😭😭 — Kara (@mylifeiskara) October 25, 2021
In the wake of the situation, a few other netizens also dropped their opinions on why they felt the accusation was legit.
"I mean the publicist is right though. I remember he posted her one time and his comments were crazy," someone wrote.
Another chimed, "Yeah. When the cast first went on the Breakfast Club a few years ago, he didn't even want to mention the race of his wife. But with his reaction, you could tell the wife wasn't black."
But many supported the actor, saying he might have opted not to post his alleged wife on Instagram to keep his relationship private and not because he was ashamed of his relationship with a white woman.
"You know his publicist, tag or share his/her name? Maybe it's wise to be private when you have negative people like you trying to tell his business," a supporter replied.
Another added, "maybe he wanted to keep his private life - private."
"Our society is full of ignorance and he is protecting his peace," someone wrote.
Jay Ellis Says He Is in 'a Happy Relationship'
In 2017, during an interview on The Breakfast Club, a similar question was asked to Ellis. The interviewer asked him if he was afraid of facing backlash for his relationship with a white woman because he predominantly had a black female fan following.
To that, he had candidly responded by saying that he was in a happy relationship and did not worry about what others said about him and his partner.
His complete statement read:
I am in a relationship. I'm in a very happy relationship and that's where I leave it. I don't really worry about anything else and that's it. I think for me, we give so much of ourselves in what we do no matter what side of the industry we're on so for me…a relationship for me is probably the most important thing that I think two people can have.
At present, neither Ellis nor his longtime girlfriend Senicar have made any comment on the ongoing accusation.
The couple reportedly has been together since 2015 and eventually welcomed their first child together in November 2019.