NFL Star Jason Kelce Met His Wife Kylie McDevitt on Tinder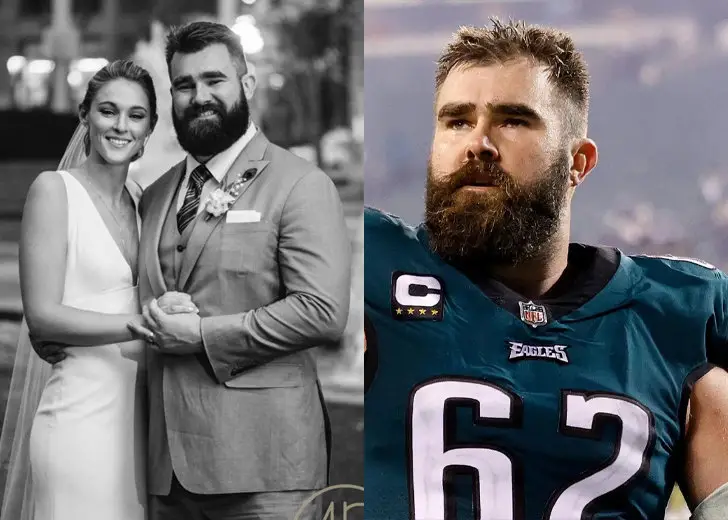 Jason Kelce and his wife Kylie McDevitt Kelce are a power couple.
The Philadelphia Eagles' star tied the knot with his beloved partner in April 2018, making the two married for almost four years now.
Here's a look at Kelce and McDevitt's marvelous wedding and fascinating relationship!
Jason Kelce and Wife Kylie McDevitt Kelce's Wedding
Kelce and his wife McDevitt had a grand wedding ceremony, planned by Sarah Alderman and Bree of the Philly-based All About Events, at the Logan Hotel.
The big day was witnessed reportedly by 170 guests, including the couple's 120-pound Irish wolfhound, Winnie.
Moreover, Kelce and McDevitt were in tears while saying their wedding vows in front of their closed ones.
The NFL star also sweetly vowed that he would be the first to go to bed so that he could warm the sheets for her and be a better man.
"I vow to...be the best husband I can be. To always be there with you but no matter the disagreements continue to take this world on together. For as long as I have on this earth I will be team Kylie and I vow to cherish every day I have with the woman I love," he added.

Jason Kelce with his wife Kylie McDevitt Kelce at their wedding. (Photo: Instagram)
Describing the occasion, Alderman, also the official photographer of the wedding, said that she couldn't have picked a better couple.
She revealed that the couple didn't originally want any posed photos (only candids), but she later convinced them to shoot a few portraits.
"I work with couples all the time, and you can tell when people are a good match. These two are good for each other on every level," she stated.
The Couple Met via Tinder
Interestingly, the beautiful couple came together through a dating app.
Yes, that's right. Kelce and McDevitt reportedly first got to know each other after swiping right on Tinder.
The two later met at Buffalo Billiards, a neighborhood pool hall, entertainment center, restaurant, and all-around fun spot in Petaluma, Philadelphia, and hit it off immediately.
In their wedding video, McDevitt even recalled her first impression of Kelce when they met at Buffalo Billiards. She said she was stunned by her husband's long beard and hair.
"The second time we met we stood in a crowded bar and talked for three hours as if we were all alone," she remembered.
Jason Kelce and Wife Have a Family of Four Now
At present, Kelce and his spouse, a hockey player and sports media personality, have extended their family with two adorable kids.
They welcomed their first child, a girl, Wyatt Elizabeth Kelce, on October 2, 2019.
Kelce took to Instagram to announce the birth of his baby, sharing a snap of his wife holding their newborn baby in her arms.
Similarly, McDevitt confirmed the birth of the couple's second baby — also a daughter — through her Instagram post on March 5, 2021.
"Elliotte Ray Kelce has arrived," the mother of two captioned her post while revealing the baby's name.
On Christmas 2021, Kelce's partner shared the family's portrait, wishing everyone a Merry Christmas and showing the family's happiness when together.