Jason Ellis and Wife Katie Ellis on Their Unique Relationship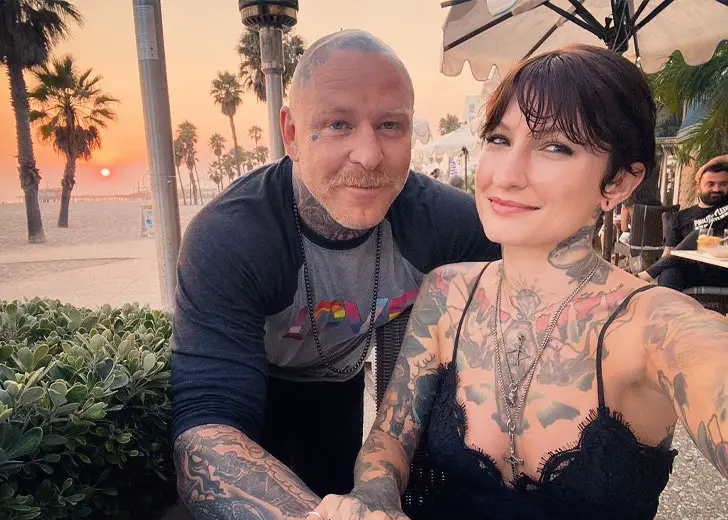 Radio host, MMA fighter, ex-skateboarder, and podcaster Jason Ellis has a unique relationship with his wife, Katie Gilbert. The two have been very open about their marriage and sexuality, and he says he likes to talk about it, hoping some people find the courage to be themselves through his example.
Ellis first came out as bisexual in 2016. He kept his sexuality a secret beforehand as he had negative experiences with two of his previous partners from long-term relationships after opening up to them about his sexuality. 
I was like 'I have done gay things before.' This was how I would say it cause I am like I don't think I am gay but I've done gay stuff and we've been together for almost 10 years and I feel like it's time to tell you. And when we broke up, they both threw that in my face. They both started telling people I am a f**.
After that, Ellis decided never to talk about his sexuality, especially with people he was dating. However, meeting Gilbert, who is a pansexual, had made him change his way of thinking.
Ellis affirmed he was bisexual in 2019 and talked about his sexuality, marriage, and life in his book Still Awesome: The Trials and Tribulations of an Egotistical Maniac. After coming out, he received a lot of criticism from people for openly talking about his relationship with other men.
They tell me, 'Man, this isn't cool you talking about it.' But I'm going to keep talking about it because they shouldn't be frowning on it. They tell me to maybe keep it to myself. But maybe not. Maybe there's a 17 year-old-guy thinking about killing himself, and he sees me and he thinks, 'Hey maybe I can just be myself.'
Jason Ellis And His Wife
Ellis and his wife Gilbert have been together for ten years. After roughly six years together, the radio host asked his then-girlfriend to marry him with a tattoo that read 'Marry Me?' on her leg. Ellis and Gilbert tied the knot in August 2017.
Ellis and Gilbert have an open marriage and are open about their sexual relationships. He previously revealed that his wife started an Onlyfans account to pay the rent after he was fired from SiriusXM.
Before getting together with Gilbert, Ellis was married to another woman. During an appearance on the IMPAULSIVE podcast in March 2018, he revealed he used to get beaten up by his first wife all the time.
Ellis shared his ex wife was a stripper, and she used to get violent with him whenever he came home high because he wasn't allowed to smoke weed anymore. In one particular instance, a filming crew member overheard what his ex-wife did to him and advised him to end his relationship with her.