Jason Biggs Did Not Get the Girl on Screen but He Walked Away with His Wife off Screen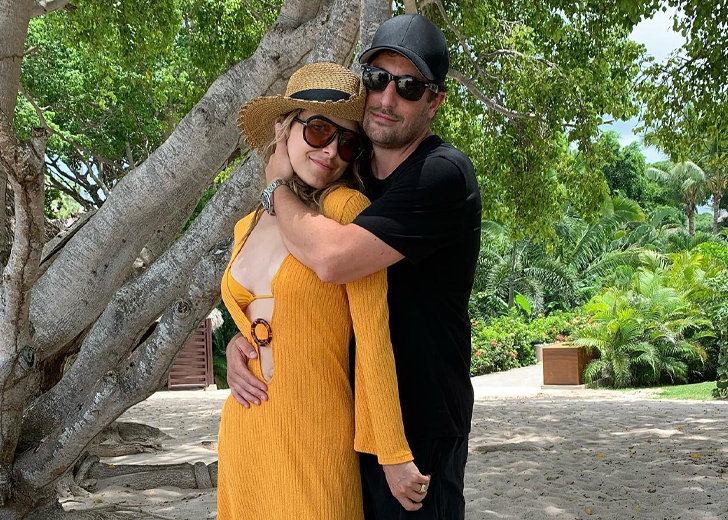 For all those not in the know and asking, "Is Jason Biggs Married?" and "who is Jason Biggs married to?" The answer is pretty straightforward — Yes, he is and it's to his wife of course.
Jason Biggs and his wife, Jenny Mollen, are couple goals, and time and again, they have shown fans they are meant to be. 
The duo first met in 2007 while starring in the comedy My Best Friend's Girl. 
Biggs starred as the lead character's step-cousin, Dustin, while his wife played the "new girl," Colleen.
In the movie, Bigg's character doesn't end up with the leading lady on-screen.
During an appearance on the No Filter with Danielle Snyder podcast, Mollen revealed she and her husband fell for each other pretty quickly. 
Biggs also felt the same way as he reportedly declared in a 2007 interview that he was in love for the first time. 
Six months after their meeting, the actor proposed to his co-star. 

Jason Biggs and his wife, Jenny Mollen, on a date (Source: Jason Biggs/Instagram)
Shortly after, the couple eloped and got married in a private ceremony in Los Angeles on April 23, 2008.
Their publicist Lisa Jammal confirmed the news and shared that the duo just wanted to take in their special moment with no distractions. 
Jason Biggs and His Wife and Kids
Naturally, after getting married, the couple started a family. 
In 2014, they welcomed their first son, Sid, into the world. 
At the time, Mollen shared in an essay on Cosmopolitan that she wasn't ready to be a mother, but she was forever changed when she held her newborn. 
"I wasn't ready for kids. I was just ready for him," she wrote.
Three years later, Mollen gave birth to the couple's second son, Lazlo.
And with two kids, Biggs and his wife decided that they did not want to expand their family anymore. 
During the coronavirus pandemic, the American Pie actor told Us Weekly that he could not help thinking what their life would be like if they had a third kid. 
He explained that he could handle his two sons, but if there was a third one, he would be "really screwed" and "could be overthrown." 
Biggs also opened up about his life with his kids, stating he was "enemy No. 1" to their kids as they were "obsessed" with Mollen. 
He noted that if he got caught sharing an intimate moment with her, their sons would interrupt them, saying, "Don't look at Mommy."
Jason Biggs' Secrets to Happy Marriage
As for the secret to their happy and long-lasting marriage, both Biggs and wife agree that therapy was crucial. 
According to People's 2020 article on the couple, they gave some marriage advice during their red carpet appearance at the Tribeca Film Festival. 
The duo revealed that they were getting along thanks to their therapist. 
Mollen iterated that sometimes couples needed someone else to convey their thoughts for them. 
"If it comes out of my mouth, sometimes it just sounds like I'm Jason's mom," said Mollen. 
In the same interview, Jason agreed lightheartedly and added that couples shouldn't be married and not have a therapist. 
"You've got to do it as a preemptive strike," added Biggs. 
The method seems to be working for the couple as they have been married for nearly thirteen years.