'American Pie' Actress Jennifer Coolidge Opened up about Dating Younger Men in Past

American actress and comedian Jennifer Audrey Coolidge has been vocal about dating younger men. Also, rumors have it that the actress might've been secretly married to the American comedian, Chris Kattan. 
Jennifer Coolidge's History With Younger Men
The American actress gained fame after she played Stifler's mom role in the first movie in the American Pie series. It turns out she started dating younger men for 10-15 years after the movie.
In a 2013 interview with The Guardian, the actress opened up about being romantically involved with younger men. 
"I did date younger men after that movie," she told the publication, "I really dated younger men for the next 10, 15 years."
She also revealed that she was in a relationship at the time. However, she didn't disclose the identity of her partner. 
I've been dating someone now for, let's see, about a year and a half, and, you know, he's a very smart, funny guy. And handsome. He's sort of the whole package.
Jennifer Coolidge Would Rather Be a MILF than a Cougar
In the same interview, she addressed how she had grown to become the Hollywood cougar typecast. While she had two cents on the nomenclature of the roles she was playing—MILFs over cougar any day— she admitted that her iconic character in American Pie made her an icon of desire for youngsters to this day. 
As for why she likes MILFs over cougars, she believed that it was a matter of perspective. The word "cougar" made it sound like the woman was a predator looking for young men. On the other hand, MILF meant that it was the "kid's idea" and that it was them who found her attractive.
She also recalled how young men who saw her in public would want their picture taken with her, but then they'd tremble next to her when she obliged. 
"I don't know if they think I'm going to rip their clothes off or something," she quipped.
Is Chris Kattan Jennifer Coolidge's Husband?
When it comes to the Legally Blonde actress's dating life, her supposed relationship with celebrated comedian Chris Kattan came into focus for many. 
The two were reportedly linked in 2001. For a while, the rumor mill suggested that she and Kattan were just girlfriend-boyfriend, but over time, these rumors evolved. Netizens and outlets alike believed that Coolidge was married to Kattan.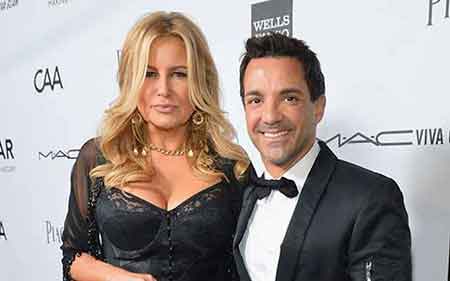 Jennifer Coolidge with her rumored ex-boyfriend Chris Kattan 
Yep! You read that right. Back then, there were speculations floating around, suggesting that the duo exchanged vows in an intimate wedding ceremony in the audience of their closest friends and family.
However, there is practically no evidence suggesting that was the case, apart from the fact that various outlets on the internet propagated the idea as public knowledge.
Until the actress unveils the truth herself, nothing can be confirmed. Reports on whether Kattan, who is ten years younger than her, was her husband or boyfriend, or neither, is nothing more than speculation. 
Jennifer Coolidge 
Enjoys Her Singlehood
Even though Coolidge has quite a dating history and even a wedding rumor, she is currently single. Her social media accounts have zero signs of her having a boyfriend.
Also, she doesn't have any children either.