Does 'Chicago P.D.' Star Jason Beghe Have A Wife?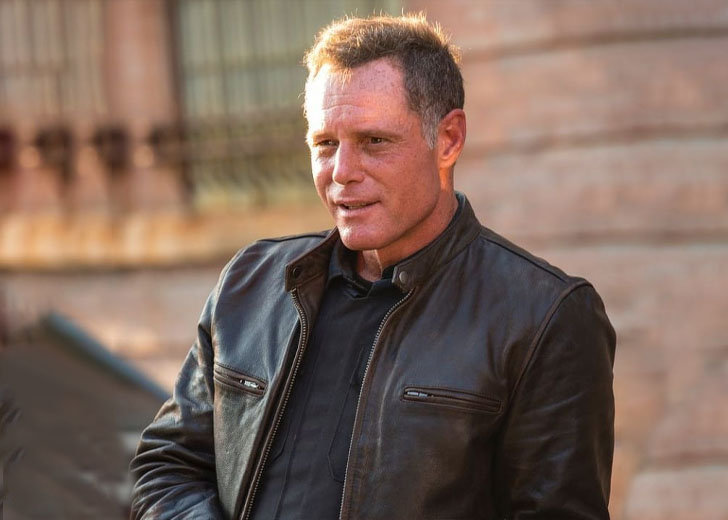 Before turning to acting, Chicago P.D. star Jason Beghe was a model. After graduation, Beghe was photographed by Bruce Weber.
This led him to work as a model, where he spent a couple of years as the Armani man in Europe. Then, upon returning to the US, Beghe took to the silver screen. 
In 1991, he landed a role as a state trooper in the film Thelma and Louise, directed by Ridley Scott, and starred as Demi Moore's love interest in GI Jane in 1997, also directed by Scott.
Since then, he has earned many television credits appearing in shows such as Numb3rs, CSI New York, Criminal Minds, Veronica Mars, and JAG. 
When the One Chicago franchise started in 2012 with Chicago Fire, Beghe starred as Hank Voight, a tough cop.
The series detailed the heartbreaking, heroic work and personal lives of Chicago firefighters and emergency personnel.
It generated the spinoff Chicago P.D. in 2014, which focused on a crackling Intelligence Unit.
That was followed by the medical drama Chicago Med and the legal series Chicago Justice. Beghe appeared as Voight in 148 episodes of all the shows. 
Jason Beghe's Wife and Marriage
As a fixture in the Chicago trilogy, fans are naturally curious about the actor's love life.
And for fans wondering, "is Jason Beghe married," the answer is yes, but he is no longer with his wife. 
Beghe married his former wife Angie Janu, in 2000. The couple was married for 16 years, and the fans expected them to last forever.
But in 2017, they shocked fans when the news of their divorce made headlines.
According to court documents obtained by People, the former couple had joint legal custody of their sons: Bix, 17, and Bo Bear, 13.
The former couple had to do their best to be civil and was forbidden from making disrespectful comments about the other and their family members while their sons were around. 
As for property division, Beghe was awarded their Chicago, Illinois, condo while Janu was granted their Malibu, California, home.
They also had to split their bank accounts, and the Chicago P.D. star was ordered to pay "$16,700 and $14,200 per month" in spousal support and child support, respectively. 
The document stated that the spousal support payment would increase to $20,000 after the monthly child support for their older son ended. 
The reason for their divorce was cited as irreconcilable differences. Around the time of their divorce, reports surfaced from several sources that the actor exhibited anger management issues on sets.
He had also faced a similar situation and was placed in an anger management program in the past. 
There isn't much information about Beghe's former wife.
Janu was born Angeline Dawn Beghe, and like Beghe, she is an actress known for her role in the 1997 film Too Good to Be True.