'Dancing on Ice's Jake Quickenden Announced Engagement to Girlfriend Sophie Church in Instagram Post
Congratulations to the newly engaged Jake Quickenden.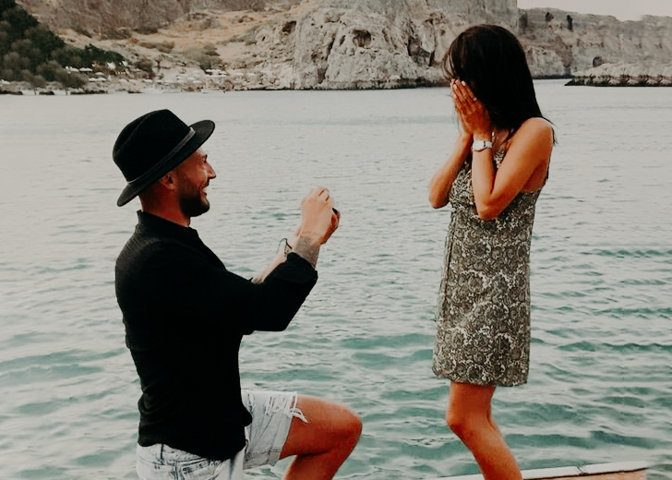 Congratulations are in order for Jake Quickenden and his now-fiancée Sophie Church.
The Dancing on Ice champion and former The X Factor star posted a heartwarming picture of himself kissing his newly engaged partner. 
The reality star proposed during the couple's romantic getaway to Rhodes. Alongside the idyllic couple shot, the 32-year-old singer joked in the caption that Church really said yes and that it wasn't a drill. His fiancée also took to Instagram to share the news. 
Apart from the photo, Quickenden posted the entire video of his lavish proposal set against the picturesque seascape backdrop from his sunny holiday in Greece. 
Fans and famous friends were excited about the milestone and flooded the comments with love. Former Love Island star Eyal Booker wrote, "Amazing. Huge congrats," while Quickenden's X Factor co-star Josh Cuthbert added, "MATE AMAZING, with a string of heart eye emoji."
Quickenden on Doing It the Other Way Round
Ouickenden and Church have been together for over three years and are first thought to have started dating in June 2018.
Last year during the lockdown, the couple split briefly. Speaking to Hello Magazine, Quickenden revealed the duo had explosive fights, which led to him moving out. The arguments were caused by the stress of undergoing a miscarriage. 
He explained that they did not know how to handle the pain and stress. However, the time apart made Quickenden realize he didn't want to be without his then-girlfriend, and upon reconciliation, they discovered they were expecting a baby.
In February, the couple welcomed their first child, Leo. The media personality is also a parent to his stepson Freddie, whom Church welcomed from a previous relationship. 
It appears Quickenden had been planning on a proposal for quite some time as he teased about it while speaking to Entertainment Daily UK. Divulging his plans on a possible engagement, he explained they were not engaged yet, but he would soon get down on one knee. '
'Obviously it's on the cards. Usually people are married then they have kids but we've done it the other way round.'
And as far as the actual wedding is considered, Quickenden wants to walk down the aisle after everything clears up. 
Quickenden Hits Back at Trolls
Meanwhile, back in March, the TV star hit back at cruel trolls who attacked his and Church's son.
After the birth of his son, Quickenden excitedly shared pictures of the newborn on social media, but some of his cruel followers took to the comments, saying his son needed Botox and looked weird.
The new father was not putting up with such nonsense and lashed out with a photo of his son on Instagram. He wrote a lengthy caption explaining that he did not mind if his followers were coming for him, but he drew the line with his kid.