Does Jae Crowder Have A Wife Or Dating Girlfriend? Into The Details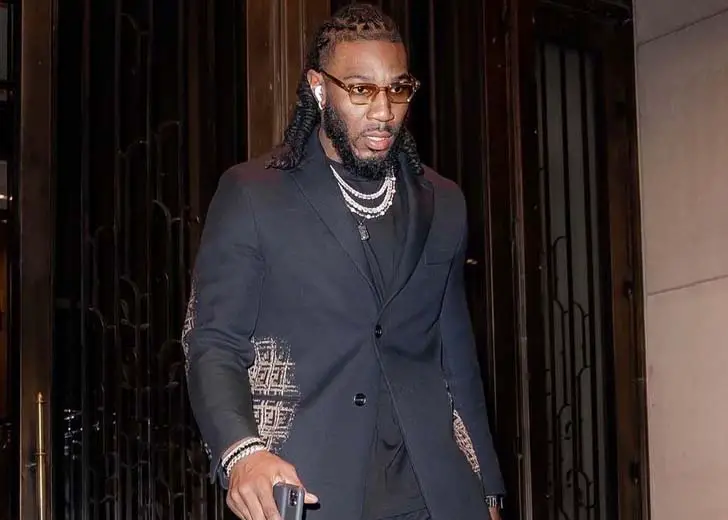 Jae Crowder is a celebrated NBA star, but surprisingly the baller has been in the headlines for his eventful personal life. 
While some fans keep questioning whether the baller has a wife, he keeps the media on their toes with his chaotic relationship with his girlfriend and ex-girlfriend. 
Does Jae Crowder Have a Wife?
As of this writing, the NBA star doesn't have a wife. However, despite not having a wife, his love life is quite eventful.  
As the world was thrust into chaos with the global pandemic, Crowder was caught in a different pickle. The year 2020 saw the NBA star break up with his girlfriend, Lece Babi, for undisclosed reasons. 
Following the split, the two engaged in a brief social media feud, with either party taking a dig at the other with Instagram stories. 
Still, there was something else brewing in the background. Come to think of it, it has been brewing for the longest of time. His ex-girlfriend Dana Lambert, whom he split from back in 2013, threatened to expose his cheating scandal. 
Lambert also flung some vile accusations at Babi. 
Jae Crowder & Ex-Girlfriend Dana Lambert's Relationship
Crowder and his ex-girlfriend Lambert began dating back in 2012, and by 2013 the couple was already parents to a beautiful baby girl, Jada.
Not long after the birth of their daughter, the former flames parted ways. Some speculate Lambert to be his wife, but the couple never tied the knot. 

Jae Crowder with his daughter, Jada Crowder. (Source: Jae Crowder's Instagram)
Since then, the ex-girlfriend had come at Crowder with infidelity accusations so often that the fans have lost count.
Lambert went as far as to say that Crowder played the cheating game better than he played basketball. 
As per Amo Mama (via Meaww), Lambert's rants against her baby daddy have always been laden with expletives. 
Dana Lambert Called Out Jae Crowder's Girlfriend
Once when Lambert went on one of her infamous rants in December 2019, she managed to drag Babi into the fold.
At the time, the Crowder-Bambi relationship was still nothing more than a rumor. 
Lambert accused Babi of having herpes and issued a fair warning to all men against getting intimate with her without protection. 
Lambert tagged Babi in her Instagram stories and called her "gross," calling her out as a side-chick whose promiscuity was the reason she never gets "picked." 
Other Victims of Dana Lambert's Infamous Accusations
Babi was far from the first victim of Lambert's accusations. She once even flung dirt at her close friend Marliesia Ortiz and claimed that Ortiz was sleeping with Crowder when she and her daughter were sleeping in the adjacent room. 
Crowder hasn't held back himself. However, when Crowder accused Lambert of cheating on him, she clapped back, claiming that Jada wasn't even his daughter. 
Lambert, who famously started a social media community for new mothers, must have been furious at her ex-boyfriend because, at one time, she even threatened to expose Crowder's Heat teammates, accusing them of infidelity.
All that being said, the Crowder-Lambert feud has been mostly on the backburner because he has kept himself busy with his on-and-off relationship with Babi. 
Crowder and Babi went Instagram official with their relationship when the pandemic set in. Unfortunately, they didn't last long as they broke up during the lockdown itself. 
Although this couple also took a few swings at one another following their break-up, they reportedly patched things up and got back together, or so Wtfoot claimed.