Jack Dylan Grazer Faces Accusations of Abuse and Infidelity — What You Need to Know About the Scandal
Witnesses paint Grazer out to be a manipulative and abusive individual.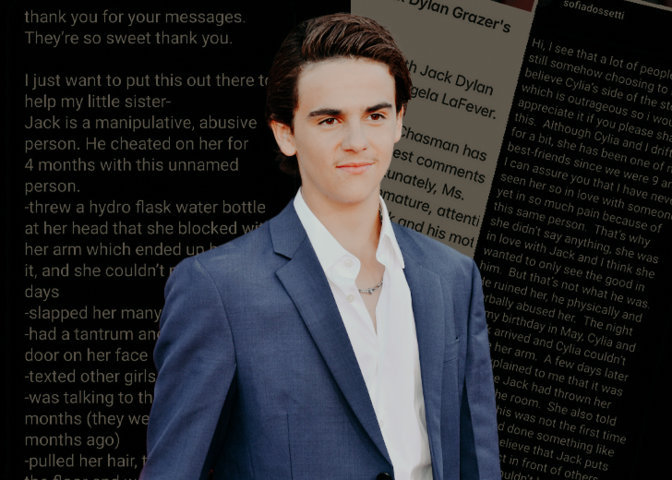 Jack Dylan Grazer allegedly physically abused and cheated on his ex-girlfriend Cylia Chasman. Following their breakup, several parties have been involved in a back-and-forth dialogue as per screenshots from fan pages on Instagram. 
One of Chasman's fan pages on Instagram claimed to have received a series of text messages from Shana, Chasman's sister, in which she disclosed that Grazer was a "manipulative, abusive person."
What Did Jack Dylan Grazer Do?
In the screenshot posted by the fan page, Shana thanked the page for their support and wrote that she wanted to help her sister by finally putting the truth out there for the world to see. 
Allegedly, Grazer cheated on his then-girlfriend by dating an unnamed woman for four months. Shaha's text also claimed that Grazer attacked Chasman with a hydro flask, aiming for her head. However, she attempted to block the attack with her arm.
The injury was apparently pretty serious, and she couldn't move her arm for six days. 
Not just that, he allegedly slapped her multiple times, had a tantrum, and slammed a door on her face. Other instances of abuse included him pulling her hair, throwing her against the floor and walls, and verbally assaulting her. 
Later on in the message, Shana affirmed that she witnessed the instances firsthand in her own home. She added, 
This is my 15 year old sister... i've never been so upset at a person like i am at jack. [sic]
Not Jack Dylan Grazer's First Abuse Accusation
Under normal circumstances, such a post on a fan-operated page would not have been very reliable. However, Chasman gave this post her seal of approval and even liked the post. 
Prior to that, one of Chasman's friends, Sofia Dossetti, had come forward with a similar narrative. According to Dossetti, when Chasman and Grazer came to her birthday party, Chasman couldn't move her arm. 
A few days later, Chasman confessed to Dossetti that she was injured at the time because Jack had flung her across the room and that it was not the first time he had done something like that. 
Dossetti explained that Chasman chose to keep things to herself because she was that much in love with Grazer. Chasman later confirmed Dossetti's words in a now-deleted comment. 
In the comment, Chasman also confessed that she was hurt because people were not ready to stand with her even though more than five witnesses, videos, text messages, and photographic proof had since surfaced. 
"What more proof do you need?" she asked.
Jack Dylan Grazer Lawyered Up!
As for Grazer, he did not make an official comment on his own. Instead, he took to Instagram with a statement from his lawyer claiming that Chasman had made false accusations. 
The comment also branded Chasman as a "troubled, immature, attention-seeking young woman."
Furthermore, the statement clarified that neither Grazer nor his mother would be pressing charges against Chasman because they did not want to "compound [her] problems" by issuing detailed factual rebuttals or suing her for defamation and other intentional torts. 
The statement, however, did warn that Grazer would prosecute to the fullest extent of the law if any of her adult relatives or other people perpetuate such vile accusations against him without having any personal knowledge of the facts. 
That being said, this was not the first time that the IT actor was accused of cheating and abuse. One of his ex-girlfriends, Natalia Jauregui, had come forward with similar allegations against him back in 2018.
However, since the abuse scandal made headlines the world over, the Luca star has come out as bisexual.
If you or someone you know is facing domestic violence, reach out to the National Domestic Violence Hotline at 1-800-799-7233 or text "START" to 88788.