BTS's J-Hope becomes The Highest Ticket-Selling Artist In Lollapalooza History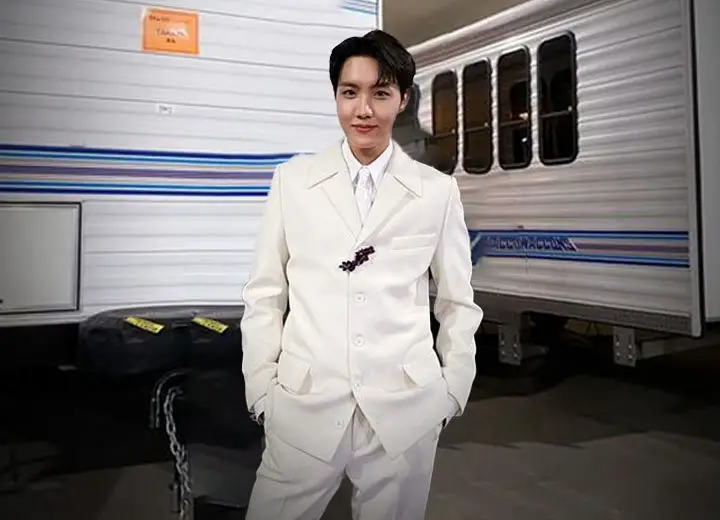 Less than two months ago, South Korean juggernauts BTS announced they were taking a break to focus on their solo endeavors, clarifying the break was not permanent.
Following the announcement, one of the members, J-Hope, had exciting plans lined up. The singer released his highly anticipated album, Jack-in-the-box, much to the excitement of fans in mid-July. 
The album debuted at Number 17 on the Billboard 200 chart. But that was not all.
On July 31, J-Hope made history as the first-ever South Korean artist to headline this year's Lollapalooza. He closed out the final night of this year's famed Chicago festival after performing 18 songs. 

J-Hope and Becky G at the Lollapalooza festival. (Source: Twitter)
The entire performance was 70-minute long, including eight of the ten tracks from his just-released debut album. He even threw in a handful of BTS songs such as 'Dance' and 'Dynamite.'
Then he surprised his fans by bringing out Becky G for the performance of his 2019 standalone single 'Chicken Noodle Soup.'
J-Hope Makes History as the Highest Ticket-selling Artist
In the aftermath of his performance, a Lollapalooza organizer revealed that J-Hope was the highest ticket-selling artist the festival has ever had. 
On July 30, 2022, a fan tweeted they had spoken with a Lollapalooza organizer who revealed that no one has sold as many tickets as J-Hope in the last 31 years. 
The organizer also said that the lineup on July 31 was set to have the lowest attendance in history.
One of Lollapalooza organisers said:"in 31 years,not one artist has ever sold as many tickets as j-hope"🔥 pic.twitter.com/LufGBKKnxf — 𝓡_𝓞_𝓞 ⁷ðŸÂ¬ðŸÂ‹ (@R_o_o_O2) July 30, 2022
ARMYs were proud of the singer's achievements and expressed their happiness.
"Were they expecting less? J-hope's selling power should not be underestimated. I am super proud of you, J-HOPE!!!" commented one fan. Another fan commented, "I'm so happy and proud of what he's about to do... Chicago will not be the same!!"
Many fans also opined that the 'Chicken Noodle Soup' singer's achievement would assuage other members of their anxiousness about launching their solo projects in the US.
"I think he was the best choice to be the first one going out for their solo in the US. This will be very helpful for the others," shared a fan. 
BTS's Ground-breaking Records
The news does not come as a shock, given BTS's fandom and the records they have broken in the past. 
If BTS wins all 4 categories that they've been nominated for so far, they will be the Most Awarded Group Of All Time In History of VMA.

You know what to do ARMYS. It's double voting day today so start voting now 🗳.

📌https://t.co/mnqtK1RoBS pic.twitter.com/7NHf0hj3mE — 𝒉𝒐𝒃𝒊𝒑𝒂𝒍𝒐𝒐𝒛𝒂 💥 || boraslayed 🔪 (@fairyminiee_) July 30, 2022
In September 2019, BTS joined TikTok and reached a million followers in just three hours and 31 minutes, shattering the app's record for the fastest time to reach one million followers on TikTok.
And then, in 2021, they became the most followed group with over 40 million followers, which has ballooned to over 65 million followers.
According to the Guinness Book of World Records, BTS is the most streamed group on Spotify, with over 27.6 billion streams.
It is clear that ARMYs love their the septet and their music. In fact, in December 2021, BTS took Taylor Swift's title to become the artist with the most cumulative weeks at No. 1 on the Billboard chart.
And now ARMYs are gearing up to help them break another record. BTS has been nominated in four different categories for the 2022 Video Music Awards. 
If they win all four categories, they will be the Most Awarded Group of all time in the history of VMAs.