BTS' RM Reveals Details about New Solo Music Dropping in 2022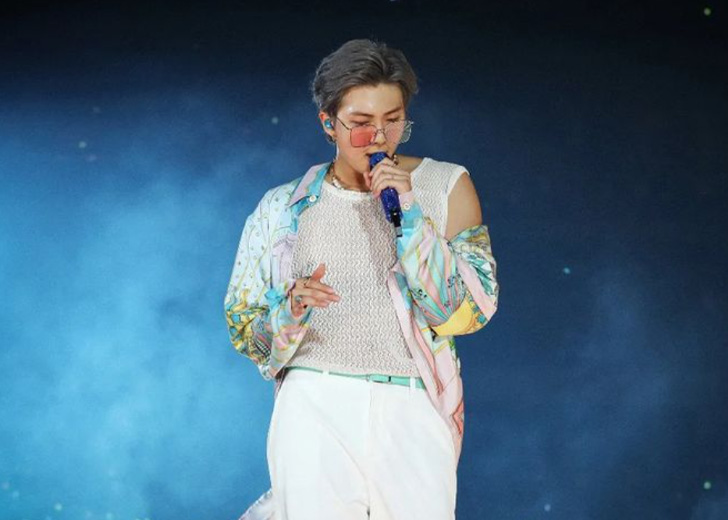 Kim Nam-Joon, better known by his stage name RM, revealed he was working on solo music.
The BTS group leader shared his plans while hosting a V Live livestream on April 9, following the second night of the residency in Las Vegas for their Permission to Dance On Stage tour.
"About the new playlist [mixtape], I'm getting ready and I'm working on it," RM said of his upcoming solo project. "I'm inviting really interesting and unexpected people to my album."

RM reveals his plans for solo mixtape during a V Live livestream (Source: V Live)
When asked by a fan during the livestream if he would release any new songs this year, he replied saying, "You bet." However, he did not specify if the song would be his solo work or that of BTS.
RM also noted that he did not know exactly when the next song would be out. "I'm trying to release it within this year. I want to do well."
RM Will Be Collaborating for His Solo Music
Later, during the livestream, RM shared more details about his upcoming project. He said he will collaborate with "various people in a new and unexpected way."
"It's going well," he said of the project's progress. "I believe it'll be cool. I believe I'm making many good songs. I have a high standard."
RM first forayed into a solo career in 2015 when he released his self-titled mixtape. He later released his 2018 mixtape titled mono, which scored the most Number Ones for any album in iTunes history, hitting the top spot in 121 countries.
RM collaborated with many artists for mono, including British duo Honne, Korean singer-songwriter eAeon, and Korean rock band Nell.
The mixtape differed greatly from most of his upbeat work in BTS and he shared it was because of his collaboration with his two childhood heroes — eAeon and Nell — who had made him "believe that sad music can heal your sorrows."
V will Also Release Solo Music in 2022
Many BTS fans are excited about RM's solo music. However, it isn't the only thing they are looking forward to.
BTS's Kim Tae-hyung, popularly known as V, also previously revealed he was releasing his solo work before the year ended.
In a May 2021 interview with Rolling Stone, V had shared he wanted to release his project by the end of 2021. However, he had to put it off as he was occupied with songwriting and production commitment for BTS.
"I originally thought of releasing it last year. But it turned out to be more harder and more complex than I imagined it would be," he shared.
"So I thought I would release it early this year. But again, it turned out to be a bit more tough than I thought it would be! So now I'm looking at the end of this year."
V released his first full solo track titled 'Scenery' on January 30, 2019, through BTS's SoundCloud page. It broke the SoundCloud records for reaching 100 million streams from 20 million streams in over fourteen days.
In the next two weeks, 'Scenery' broke the daily streaming record nine times on the streaming platform.