J.B. Mauney and Wife Samantha Are Getting Their Son Into Bull Riding Early
J.B. Mauney's son is already showing interest in rodeo.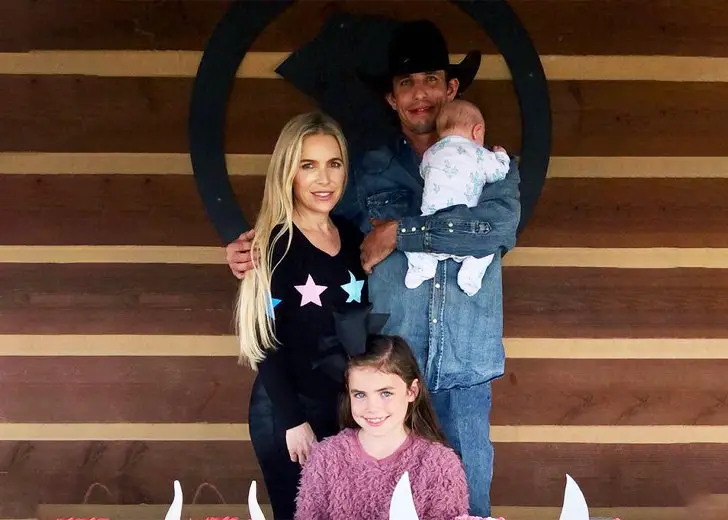 James Burton Mauney, or J.B. Mauney, is a professional rodeo cowboy who specializes in bull riding. He competes in the Professional Bull Riders (PBR) and Professional Rodeo Cowboys Association (PRCA) circuits. Pro Rodeo currently ranks him as the #6 in the world in bull riding.
Mauney started his rodeo journey by riding a sheep at just 3 years of age and he is getting his son into it at an even earlier age. Jagger Briggs, whom Mauney and his wife Samantha welcomed on January 23, 2019, can already be seen following in his father's footsteps.
A clip of him playing with sheep and practicing his rodeo skills on a toy horse was posted on his Instagram account in September.
J.B. Mauney's Father In Law Is Also A Rodeo Legend
After developing an interest in bull riding, Mauney was mentored by the 1995 World Champion Bull Rider, Jerome Davis. In 2006, he won the title of PBR Rookie of the Year and finished second in the PBR standings in 2008, after winning four rounds at the PBR World Finals.
Since then, Mauney has had a stellar record in dozens of rodeo fairs and pro circuits. In 2021 alone, he won the Pikes Peak or Bust Rodeo, Reno (Nevada) Rodeo, Crockett (Texas) Lions Club PRCA Rodeo, and Bandera (Texas) Pro Rodeo among several others.
However, Mauney isn't the only one in his family to have made a name for themself in the world of rodeo. His father-in-law, Phil Lyne, is a winner of the All-Around Cowboy Championships at the National Rodeo Finals. In fact, he was the PRCA World Champion for two years in a row — 1971 and 1972.
The Academy Award-winning 1973 documentary, Great American Cowboy, was about Lyne's rivalry with another rodeo star.
When talking to USA Today back in 2018, Samantha revealed her son would be a bull rider, if he wanted to be, when asked if he would follow in his father and grandfather's footsteps.
If he wants to be… He better be tough. As long as he's tough and not a little wuss, he'll be fine.
J.B. Mauney Has A Daughter From Previous Marriage
Before tying the knot with Samantha, Mauney was previously married to Lexie Wiggly. The two exchanged vows in 2012. Their wedding was delayed as Mauney had to wait a couple of weeks for his hand swelling to subside so he could slide the wedding ring on his finger.
Mauney also has a daughter named Bella from his previous relationship. He has taken to Instagram on several occasions to post about his children and family.