Issa Rae Secretly Gets Married with Longtime Beau Louis Diame
Issa Rae just announced her wedding.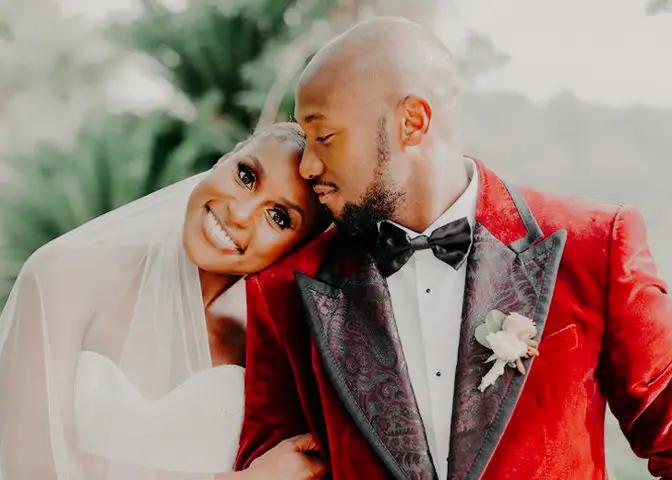 Congratulations, Issa Rae!
Rae, who has always kept the details of her personal life private, announced her marriage to her long-term boyfriend, Louis Diame, in an inventive fashion. 
Earlier today, the co-creator and star of the HBO sitcom Insecure teasingly confirmed the news by sharing a series of stunning wedding portraits of her in a dreamy custom Vera Wang Haute dress on Instagram, calling it an "impromptu photoshoot." 
The ceremony took place at the legendary Grand-Hôtel du Cap-Ferrat. 
Rae's Private Relationship
Back in April 2019, there were rumors she was engaged after she was spotted wearing, what appeared to be, an engagement ring on her Essence cover. But during an appearance on The View, the actress brushed off the speculation by stating that she had many rings and was wearing one of them. 
The actress never even confirmed she was engaged, but her co-stars did. 
While attending the 2019 NAACP Image Awards, Jay Ellis and Yvonne Orji appeared to confirm the engagement news when speaking with reporters. Orji told Entertainment Tonight that they were excited for her, with Jay adding that they found out at different times and different ways because they were all on separate text chains.
Throughout her career, Rae has taken special care to keep her love life away from the prying eyes of the media.  
While appearing on the March 2018 issue of Vogue, interviewer Abby Aguirre asked the actress if she was dating anyone. She politely sidestepped the question and instead explained why she keeps her love life private.
I don't want any input. As a writer, you put everything on the table. I'll take input on kids if I'm going to have kids. How do I not kill the kids? Work? Give me the input. Any other aspect of my life? Give me the input. But who I'm fu***** ? No, I don't need input. I'm good.
Rae's New Husband
For fans who are eager to know more about her new husband and businessman, here's everything we know so far. 
According to Harper's Bazaar, the mogul is allegedly an independent banking professional in the greater Los Angeles area, based on his private LinkedIn page. 
It is unconfirmed how long the newly married couple has been together, but days after the couple's engagement was officially confirmed, Rae's brother, Lamine Diop, dished the couple's relationship to Us Weekly. 
He disclosed that Rae and Diame had "been dating forever" and that they had spent many family celebrations together. He also revealed that the engagement took place around the holidays that year. 
In 2012, Diame made a cameo on Rae's decade-long YouTube web series, Awkward Black Girl. He played a Black man who looked disapprovingly at Rae while she was out on a date with a white man, despite himself being out on a date with a white woman. 
Since then, rumors circulated surrounding their relationship, particularly after the couple appeared together on red-carpet events, including the 2016 Golden Globes after-party for Insecure's premiere.
Once again, congratulations to the happy couple.