Iggy Azalea Shares a Son with Her Former Boyfriend Playboi Carti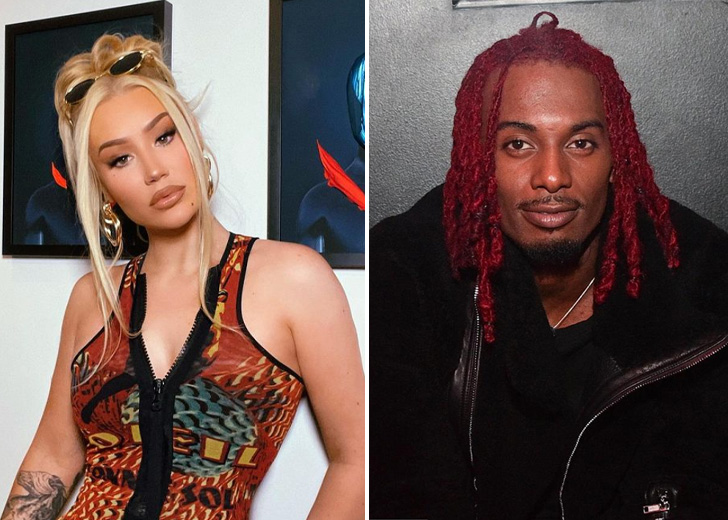 Iggy Azalea is very secretive when it comes to her dating life. It is unknown if she has a boyfriend or if she is seeing anyone.
Previously, she did not hesitate to talk about her boyfriend if she had one, but now, she remains mum about the topic. She has been linked with many people in the past.
Out of them, her most prominent relationship was with her former boyfriend, Playboi Carti. The two had an on-and-off relationship since 2018.
Currently, the duo share a baby boy named Onyx and are co-parenting. However, their dating life was a roller coaster, with Azalea often complaining how Carti was a bad boyfriend and baby daddy.

Iggy Azalea with her son Onyx, whom she shares with her former boyfriend, Playboi Carti. (Source: Instagram)
Here is everything you need to know about their relationship.
Iggy Azalea and Her Former Boyfriend Playboi Carti
Azalea and Carti were romantically linked when the latter was touring in 2018. Fader reported on June 12, 2019, that by the end of 2018, the couple had moved in together.
Carti told the outlet that he was smitten by Azalea and did not talk to other women after being the 'Fancy' singer's boyfriend. He said, "Once I started talking to her, I just cut off everybody."
He mentioned that their relationship was personal, and they were not making music together. But after that, neither Azalea nor Carti talked about their relationship.
Many wondered what was going on between the pair. Some believed they had broken up, whereas some thought they kept their relationship lowkey.
In 2020, fans and followers of Azalea and Carti found out that the two had welcomed a baby and had parted ways as well.
Relationship after the Baby
In June 2020, rumors started floating around that Azalea had given birth to her first baby with her boyfriend, Carti. According to TMZ, Carti bought a $400K Rolls Royce so that it could easily incorporate his baby.
However, neither Azalea nor Carti addressed those speculations. Moreover, Azalea was on a four-month hiatus from social media, which further escalated the speculations.
But when she came back, she posted pictures of herself, showing off her fabulous figure. Then, on June 10, 2020, the 'Started' rapper confirmed she had a son via Instagram stories.
She wrote, "I kept waiting for the right time to say something but it feels like the more time passes the more I realize I'm always going to feel anxious to share news that giant with the world."
However, she did not reveal who the father was. On October 24, 2020, Azalea shared the first photos of Onyx, which have now been deleted from her Instagram.
She confirmed that she had parted ways with her boyfriend via Instagram stories the same day. She wrote how Carti lost a "real 1."
She penned, "People take loyalty for granted & that's why I'd rather be alone…. What I meant last night was that I'm raising my son alone & I'm not in a relationship."
However, on October 26, 2020, Azalea changed her statement and said, Carti would be a part of Onyx's life. She clarified her son was "so so loved by his dad," and he "always had both parents" from the beginning.
Unfortunately, the drama did not end there. On December 25, 2020, she slammed her former boyfriend for celebrating the release of his album Whole Lotta Red instead of spending time with his son.
She also accused him of cheating on her while she was pregnant. Moreover, she alleged Carti invited the woman he cheated on her with to the party.
In a now-deleted tweet, she wrote, "Too bad you got an album out but can't even come to Christmas with your son" in a now-deleted tweet.
Then, she elaborated, "Imagine not flying out your family on Christmas but you have the girl you cheated on my entire pregnancy at your album party and magically me and my son can't come for Christmas any more? TRASH."
She also revealed that Onyx was a planned baby, but Carti had been ignoring his duties. She gave birth to Onyx alone since her former boyfriend played video games.
She similarly accused him of not signing Onyx's birth certificate. The next day, it was reported that Carti spent Christmas with his son in his studio.
On December 27, 2020, Azalea took to Twitter to say that she had discussed things with her former boyfriend. As a result, the pair promised they would change for the better for their son.
She later confirmed that she would never get back together with Carti. Instead, they would co-parent and be civil for the sake of Onyx.