Ian Ziering Back in Dating Game after Divorce from His Second Wife, Erin Ludwig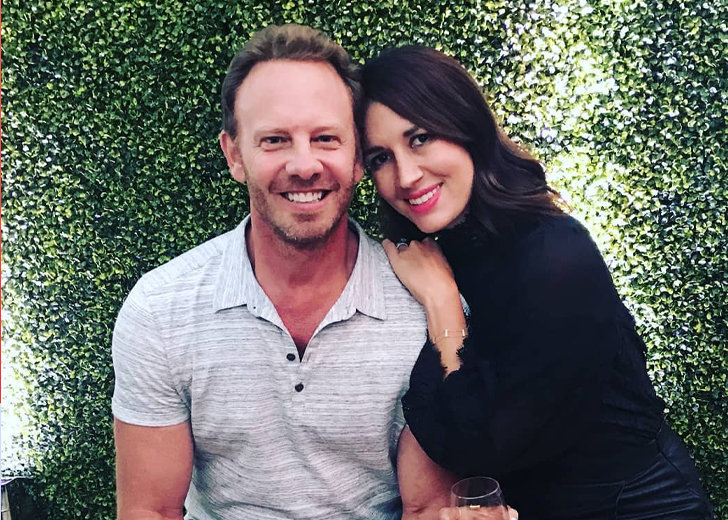 It seems like Ian Ziering is moving on from his wife, Erin Kristine Ludwig. After years of growing apart and a painful divorce, the Beverly Hills 90210 actor is dating again.
And while we would want to get our hopes up, he has made himself available exclusively to the celebrity dating app Raya.
Sources tipped US Magazine back in 2020 that Ziering has landed himself on the socialite-only dating app Raya. This was seven months after his drawn-out divorce with his then-wife, Ludwig.
What has happened afterward is pretty much anyone's guess. No further information on who he is dating has leaked out. 
The actor himself seems to prefer that it does not as well.

Ian Ziering posing for a picture with his dog, Rocket. (Source: Instagram)
Second Wife, Daughters, and Hectic Divorce
Ziering was alone for years until he met Ludwig, shortly after coming to Los Angeles, on Labor Day 2009. He proposed on February 3, 2010, three months after their first encounter. 
Ludwig and Ziering were head over heels for each other as they walked down the aisle in Newport Beach, California, on May 29, 2010. Mia and Penna, the couple's daughters, joined the family in 2011 and 2013, respectively.
The actor was named 'Daddy of the Year' by DaddyScrubs.com a few months after Penna was born. The actor said the award reminded him of his father and upbringing, and he's just trying to "pay it forward." 
He also admitted that failure was not an option for him and Ludwig when it came to establishing a great relationship and parenting their girls. Instead, it's all about passion and commitment, he remarked. 
Mia and Penna had a profound impact on Ziering's life, and he once said that being a parent was "the best role" he'd ever done, even more than Steve Sanders.

Ian Ziering's daughters, Mia and Penna, from his second wife, Erin Ludwig, posing for a photo. (Source: Instagram)
However, as perfect as this family seemed, the marriage between them was soon to collapse. 
It all came to an end for Ziering and Ludwig in October 2019 when the actor filed for divorce. He is said to have urged her to leave their home as well. 
Ziering said in a now-deleted Instagram post that their rigorous work schedules were the main reason for their breakup as they grew apart over time. Despite this, he viewed Ludwig as their daughters' best mother.
The Swamp Thing actor is reported to have asked for joint legal and physical custody of Mia and Penna, as well as child visitation for both parents. Appropriate spousal maintenance for a limited period was on the table as well. 
In addition, he requested that his former wife become self-sufficient. Ludwig pointed out that she was making money with her blog Elevated By Erin months after filing for divorce.
And while she makes a handsome killing with that, she does a lot more as a consultant to various PR firms.

Ian Ziering with his daughters, Mia and Penna, at the iHeartRadio festival, 2021. (Source: Instagram)
Ziering's First Wife, Nikki Schieler
Best known for the 90's cult classic Beverly Hills 90210, the actor played the role of Steve Sanders. During the decade-long filming of the show, he met Playmate Nikki Schieler.
In 1997, they formally called each other husband and wife. However, love between them didn't last very long, crumbling away with divorce by the end of 2002.
This was followed by rocky media statements. Schieler had announced that she did not receive any monthly support after the divorce and had blown through all her savings. 
She also commented that she had to put up with people falsely calling her out for getting married to the actor for money.
Ziering replied to these claims with official statements that he, for a fact, had compensated her well and above from his part.