Ian Book's Girlfriend Kendall Moore Consistently Supports Him during His Games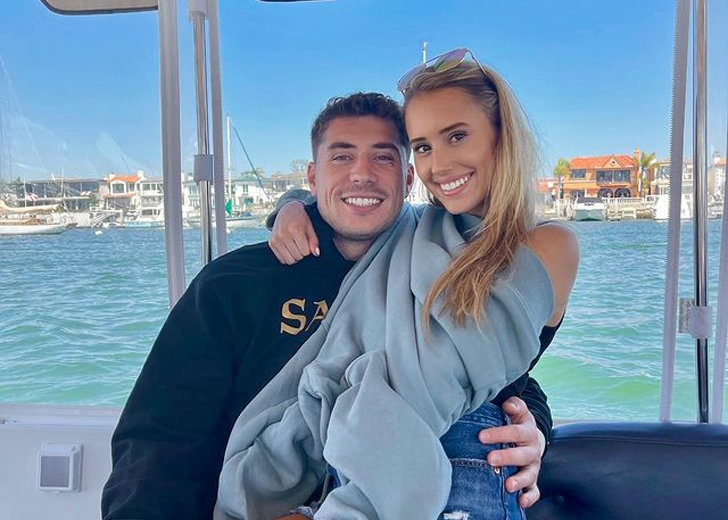 Ian Book is currently dating his girlfriend, Kendall Moore. 
While it remains unknown when the twenty-three-year-old met Moore, he reportedly started dating her in 2019.
A scroll down on Moore's Instagram suggests the first photograph where she was pictured with Book was made public in July 2020.
Likewise, Book made their relationship Instagram official by posting an onfield picture of himself with Moore in December 2020.
While not much is known about the NFL player's partner in public, her Instagram bio suggests she is an alumna of the California Polytechnic State University.

Ian Book with his girlfriend Kendall Moore at Notre Dame Stadium in December 2020. (Photo: Instagram)
Moore graduated high school in 2017 and has a bachelor's degree in agricultural business and management.
Additionally, she is also an aspiring Instagram influencer and, as of this writing, has around seven thousand followers on her social media.
On her Instagram, Moore primarily posts images related to her personal life, family, and boyfriend.
Ian Book's Girlfriend Supports Him
When the football player remains focused on his team, his love interest is often spotted supporting her beau.
"Let's go Saints baby," she wrote in the opening statement of her May 2021 Instagram post. 
Book's partner further wrote how she was "unbelievably" proud of him after her boyfriend's successful NFL Draft to his new team New Orleans Saints.
"I love you," Moore wrote in the conclusive sentence of her caption, reinstating her affection for the football player.
In the first picture of the post, the lovebirds were seen standing next to each other. The second image saw Book and Moore sharing an intimate hug.
Later in November 2021, Moore shared a picture of herself with Book's teammates.
In the caption of the image, the girlfriend showed her never-ending support for her boyfriend and his team, writing, "The boys are ready."
The following month, she was pictured with her friends attending a match in New Orleans, where she felt like a "happiest heart" welcoming her "girls" to the Caesars Superdome.
Ian Book's Girlfriend Once Modeled His Jersey
In December 2021, Moore displayed her excitement for her boyfriend while he made his NFL debut for the Saints against the Dolphins.
In the fourth round, he was drafted to play for the Saints' senior team as the 133rd overall pick in the 2021 NFL Draft. He signed a four-year rookie contract with the team on June 8, 2021.
Book had played for the Notre Dame college team between 2016 and 2020.
She took to Instagram to post a video of herself in Book's jersey. Later, she entered the Caesars Superdome in New Orleans while her boyfriend was getting ready to line up.
However, her excitement came to a halt after witnessing the Dolphins beat the Saints 20-3, extending their winning streak to seven games.
Book completed 12 of 20 passes for 135 yards in the match with two interceptions and zero touchdowns.
"Personally, I have a lot to get better at," the athlete reflected after the NFL match.
He further shared that the night wasn't better for the team after failing to score a touchdown. "We can't win that way," Book remarked.
The defeat, however, didn't seem to faze Book's lover as her Instagram posts still reflect her constant support for him.