Hugh Hefner's Widowed Wife Crystal Harris Found Love after Recovering from Her Traumatic Past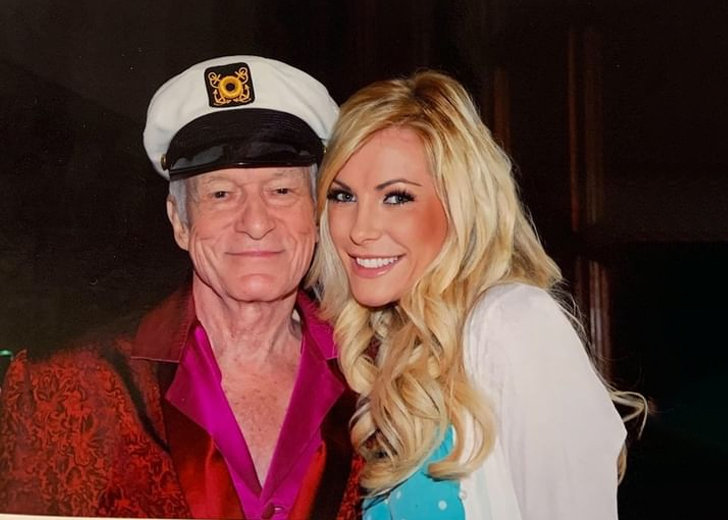 Former Playboy Playmate and the late Hugh Hefner's widowed wife, Crystal Harris, finally moved on from her husband's death to find love again. 
Harris began dating spaceship engineer Nathan Levi in 2020, three years after Hefner's death.
The couple has been making posts gushing over one another on social media on multiple counts. 
However, as revealed by Harris in a December 2021 Instagram, she was still recovering from the traumatic marriage she had with Hefner. 

Hugh Hefner's widow Crystal Harris with her new boyfriend, Nathan Levi (Source: Instagram)
Hugh Hefner's Wife Recalled Life at Playboy Mansion
On December 3, 2021, Harris put up a photo of herself posing in front of the Playboy Mansion from back in 2016. 
Beaming a bright smile for the camera, the model was clad in a floral dress with her blonde locks gently flowing over her shoulders — a happy photograph, it would seem. 
However, the next slide in the post was where she narrated the truth behind it.
She admitted that she liked this particular photo which was taken towards the end of her relationship with Hefner when she admittedly began saying no to "things that weren't me." 
It was around this time that her hair had begun to grow more naturally, and her implants had been removed. 
"No more fake tan or life," the Playboy guru's wife penned. 
"I was still sick physically and mentally, but on the road to recovery," she added. 
Hugh Hefner's Wife Called Playboy Mansion Her Prison
Being the wife of the globally recognized womanizer definitely was not an easy life to live.
Harris confessed in all honesty that she was always torn when she recalled the Playboy Mansion. 
In a lot of ways, the estate was a sanctuary to her, but at the same time, it was also her prison, a pattern that would be seen in her relationship with Hefner. 
Hefner was good to his wife in many ways, but apparently, he wasn't as forgiving and loving in others. 
"I'm still healing from certain experiences," the widow shared. 
Life with the Playboy Guru
During an exclusive interview with The Sun, Harris shared that she was shot with accusations belittling her intelligence and misidentifying her relationship with her late husband as one motivated by money. 
Not to mention, every interview she sat down for tried to poke her about the age gap between her and Hefner, leading to conversations about their intimate relationships. 
"People would say I was a dumb blonde, a fake, a gold digger who didn't really love Hef," she told the outlet. 
I was afraid to do interviews because as soon as I'd sit down they would attack me. Because of the age difference the first thing they would ask is 'How is your sex life?'
When in reality, she wasn't even on her husband's will.
She was awarded a substantial payout of 7 million dollars in cash because they were still married, and she inherited a 5 million dollar Hollywood Hills house, which he left in a trust for her and which she went on to sell.
The rest of his $45million fortune was split between his four children, a university, and various charities.
Even when she was with her husband, the model was subjected to constant malicious comments from the public and other stunningly beautiful women floating around the mansion. 
Also, in the same interview, she confessed that Hefner was well aware that there was a significant age difference between the two of them and that he wouldn't be around forever. 
"He said he was aware of the fact that he wouldn't be around forever. And said 'You'll move on,'" she recalled.