Who Is Hoon Lee's Wife? — A Look inside His Marriage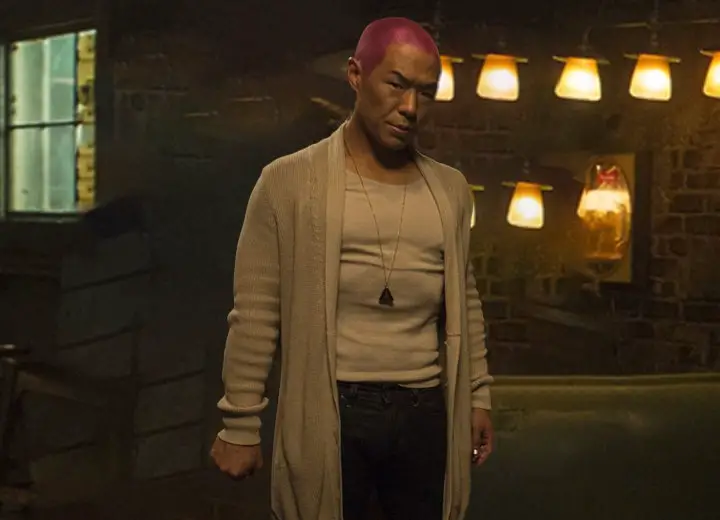 The Banshee actor, Hoon Lee, is known for his unique transvestite character on screen. His portrayal has been appreciated by both audience and the critics, which shows how believable the character was. 
But it also has raised the question, is Hoon Lee gay? The answer to that is no; the actor has been happily married to his wife, Sekiya Billman.
Hoon Lee Married Wife Sekiya in 2008
Lee and his wife exchanged wedding vows in October 2008. The wedding ceremony took place at Bubby's Pie Company in Brooklyn. Their mutual friend Peter Kim, who transformed into a Universal Life minister for the occasion, officiated the ceremony. 
The duo and Kim are the members of the Manhattan-based Mr. Miyagi's Theater Company, where they appeared in Sides: The Fear is Real.
Lee and Billman have five years of an age gap, with Billman being older. While the actor was 35 years old, his wife was 40 years old when they wed.
During that time, Billman, a graduate of the University of California, oversaw the Manhattan office of the architectural firm BAM Design.

Hoon Lee with his wife, Sekiya Billman. (Source: Twitter)
Lee initially met his wife in 2001 while performing in a production of Making Tracks at a fundraiser in Taipei, Taiwan.
At the time, he was performing for Second Generation, an Asian-American theater company in Manhattan. She later joined him at Mr. Miyagi's Theater Company, where they worked together.
In a 2015 Twitter post, Lee revealed how his wife saw his potential to perform a role and encouraged him to take the challenge. 
Hoon Lee's Transvestite Role in 'Banshee'
Lee portrayed the bad-ass transvestite hairstylist-turned-criminal mastermind and tech genius Job in the Cinemax action series Banshee. His character supported Lucas Hood, played by Starr, in his illegal activities.
While the makers presented the paper, Job's character was defined as "a beautiful Asian woman who we don't realize is a man until he speaks."
In a February 2013 interview with Collider, the actor revealed why he loved the transvestite character and chose to perform such a daring role on-screen despite being straight in real life. 
Lee revealed it immediately drew him to the character, noting that a lot was going on with him, and there were so many interesting things to discover. 
The Banshee star further explained that it was not always easy to find that in an on-screen role. "So, when you look at a character and you're like, 'Wow, that's really unexplored terrain for me,' and there's a lot happening here and different angles to him," he added.
While asked about how the makers wanted Job to appear on-screen, Lee responded they were aware of the mindset and combination of fierceness and strength they desired from the character, as well as something incredibly intriguing and unique.
He emphasized that he also gravitated towards it, and the role began to stand out more and more in the numerous descriptions offered to him. "They wanted a character that really had a ferocity and a core of strength, to be coupled with this more feminine and technical presentation," Lee continued.
In another 2014 interview with Out, the Bosch star mentioned he had performed in drag for fun before doing the role in Banshee. 
He also noted how people were quick enough to judge him in real life based on his appearance on-screen. "It was shocking how quickly all of these stereotypical gender insecurities descended upon me. I'd be looking in the mirror thinking about how fat something made me look," Lee said.
The actor appeared in 37 episodes of Banshee from 2013 to 2016.