A Look at Hazel-E's Daughter — Growing up to Be a Star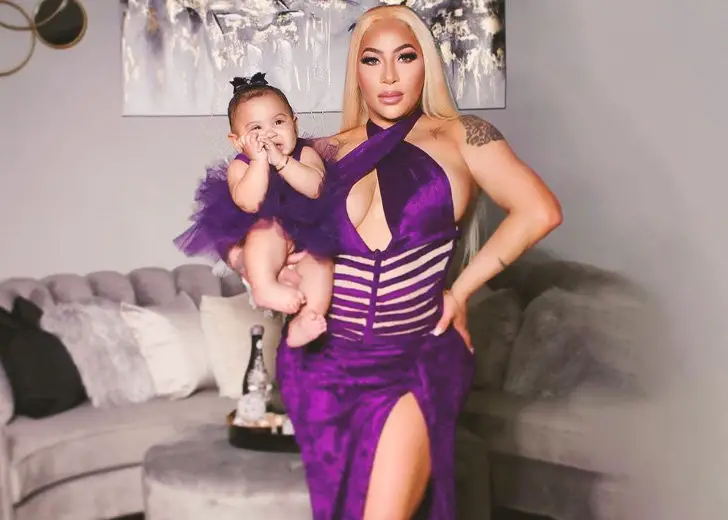 It has been over a year since rapper Hazel-E welcomed her daughter Ava Dior Waller with her now-husband Devon Waller.
"I'm so nervous, happy, and anxious to take this journey," the 41-year-old had shared while announcing her pregnancy through an Instagram post in December 2019. 
The following year, Hazel-E celebrated the gender-reveal party in February and organized the baby shower in May. She even live-streamed the baby shower celebration through her YouTube channel named Hazel & De'von HD.
The 'Hasta La Vista' singer announced the birth of her baby girl on June 16, 2020. She posted an adorable video of her newborn on Instagram and introduced the baby in the caption.
"Meet our heartbeat @avadiorwaller," she wrote and stated that the baby girl was everything she had dreamed of and more. 
Since her daughter's arrival, Hazel-E has frequently uploaded Ava's pictures on her socials and has been pretty vocal about her motherhood.
Hazel-E's Daughter's First Photoshoot
Almost a month after Ava's birth, the Love and Hip Hop Hollywood star organized the first professional photoshoot for her newborn daughter. On July 10, 2020, she shared glimpses of the photoshoot on her Instagram.
The photo is where Ava looks super cute in a pink knitted jumpsuit with a matching beanie while laying on a pink fluffy material.
While the post showcased the baby girl's one look, a detailed YouTube video from her parents clarified that she had rocked multiple dresses, including a white sparkling tutu skirt with a matching headband.
Her Daughter's First Birthday
Ava turned a year old on June 15, 2021, and Hazel had nothing but a heartwarming message for her baby girl. She posted several awe-inspiring pictures of Ava on Instagram and, in the caption, reflected how motherhood had changed her life for good. 
"My world flipped upside down! I found a new purpose for life because you entered it!" she wrote while wishing Ava, "Happy 1st Birthday Princess."
The pictures Hazel posted on her socials were glimpses of the lavish princess-themed birthday party for Ava. The one-year-old wore a stunning pink dress embroidered with pearls, whereas the attendees dressed as Disney princesses. 
Hazel-E on Motherhood 
In an interview with CheatSheet in October 2020, Hazel opened up about her motherhood experience and stated that it changed her for the best.
Claiming motherhood as the best thing in the world, the Ohio native shared that her child taught her a lot of patience and unconditional love. She added, "it's giving me a different sense of fulfillment than I've ever had with any other thing I've ever done before."
The reality star also expressed her priorities changed after giving birth. She stated she wanted to set an excellent example for her daughter by being a committed mother and a wife. Hazel and her partner Waller tied the knot on October 6, 2019.