Adorable! Check Out First Pictures of 'General Hospital's Hayley Erin and Husband Adam Fergus' Children
They welcomed their daughters in August 2021.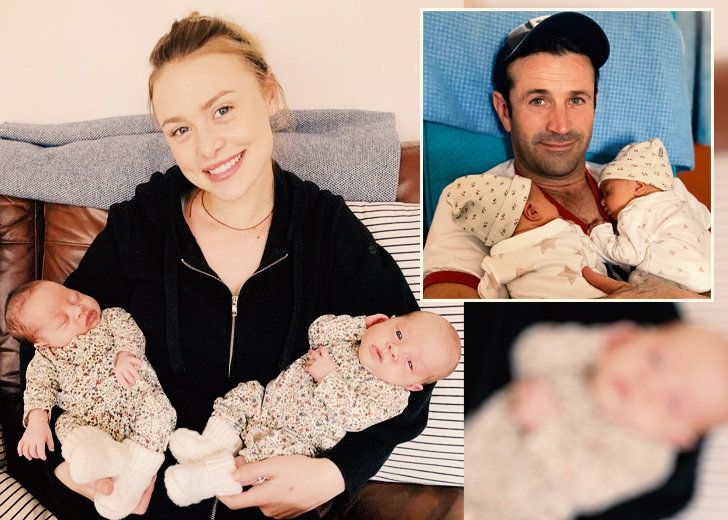 General Hospital actress Hayley Erin and her husband Adam Fergus welcomed their twin daughters, Maude and Juno, in August 2021. Their firstborn Maude arrived on August 9, while the younger one arrived on August 10. 
However, the new parents didn't share the pictures of their kids on their socials for a while. Thankfully, that changed when both Erin and her husband took to Instagram to share photos of their bundles of joy on September 28, 2021. 
Erin uploaded a gallery of pictures where her daughters looked precious, sporting matching onesies and dresses.
In the first photo, The Young and the Restless actress looked ecstatic as she held her daughters in her arms while flaunting her million-dollar smile. The following pictures saw the baby girls playing, sleeping peacefully, spending time with their fathers, and crying. 
Soon after, Erin's husband also followed suit and posted a series of their family photos. "It's been 7 weeks of heavenly bliss so I thought I'd better share some pics before the wheels come off," he captioned the gallery. 
Then he mentioned Erin and praised her as his heroic wife. The Irish film actor stated she had taken motherhood so well that she was more than thriving with their children. 
Hayley Erin Married Adam Fergus in 2020
Erin made her relationship with Fergus Instagram official in April 2019. She posted a picture with her him and disclosed that it was taken at Washington Square Park. 
Then, on September 24, 2020, the 27-year-old took her fans, followers, and even friends by surprise by revealing that she had already married Fergus. 
"Had to pop in and wish my husband a happy day of birth," she captioned the birthday post dedicated to Fergus. The talented actress also disclosed they had their honeymoon at the Sheen Falls Lodge in Kenmare, Ireland.
The marriage came as a surprise, for no one even had a hint of her secret wedding that happened on June 11, 2020. And their relationship only blossomed after that. 
The California native got pregnant and announced the pregnancy through Instagram on April 1, 2021. At first, everyone thought that the news was April Fool's joke. But another day, Erin cleared all doubts by flaunting her baby bump and revealing she was expecting twin daughters. 
Erin's blissful marriage came after she ended her longtime relationship with Logan Luedtke. The duo had started dating in 2014 and got engaged during a vacation in Kawela Bay, Hawaii, on July 11, 2017.
They parted ways within a year of their engagement. "It's a very transitional period," Erin told Soaps In Depth in September 2018 regarding the breakup. She even said she was venturing out into single adulthood and figuring it all out.