#FreeHarry Trends on Twitter over Harry Styles' Cover of Britney Spears' 'Toxic'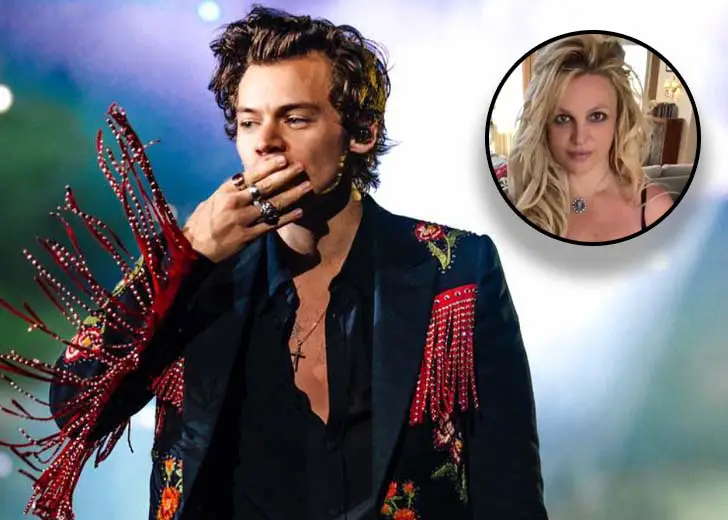 #FreeHarry is trending on Twitter after fans of Harry Styles have taken to the platform en masse, believing he is pleading for freedom.
The Free Harry hashtag found its way into thousands of tweets after many of his fans likened his cover of 'Toxic' and waved a "Free Britney" flag back in October 2021 to him, sending signals for help.
"Do you understand how loud this is! Harry waving a FreeBritney flag is making sense now and him singing toxic while dressed as Pierrot! It's all so loud! He's screaming at the top of his lungs and he's fighting," tweeted one fan.
Several others joined him in expressing similar thoughts, with many pointing out that Harry is currently working with Jeff Azoff, who had worked with Britney Spears in the past.
People's Reactions to #FreeHarry
Conversely, there have also been plenty of people who have dismissed the #FreeHarry tweets as being nothing more than a conspiracy theory.
"#freeharry if y'all are comparing Britney Spears' situation to your little conspiracy about harry, you're a freak,'' one user wrote.
"Britney was abused by her family and management. Harry HIRED HIS OWN manager. He can fire him at any point. Harry is free, y'all are just psychotic."
They also argued that Styles waving the "Free Britney" flag was just his way of showing support for the 'Toxic' hitmaker and nothing more, especially since the former One Direction singer is close friends with Azoff.
Styles and Azoff are very close to each other. In fact, the singer and Olivia Wilde even made their debut as a couple at Azoff's wedding. Reportedly, Styles also officiated the wedding between Azoff and his wife in front of 20 guests.
However, not everyone is taking the situation seriously. Several users have taken the opportunity to make fun of the situation.

Several users have made fun of the situation involving #FreeHarry. (Source: Twitter)
A user uploaded a picture of Styles' pectoral muscles and tweeted, "#freeharry from carrying the biggest honkers ever???"
Harry Styles & Jeff Azoff
Styles signed with CAA's Azoff in 2016 after parting ways with One Direction's longtime management team, Modest Management.
Since then, the two have developed a close friendship. Azoff also previously talked about working with Styles during a conversation with Music Week.
"Most of the time, it doesn't feel like work," he said. "The great thing about Harry is, he has so many ideas and he's the type of artist who knows exactly who he is. That makes our job a lot easier, all we try and do is be there and support him."
Styles has also expressed no dissatisfaction with Azoff's work. The singer's fans, however, had previously blamed Azoff for Styles not thanking his fans despite receiving multiple accolades.
"Congrats Jeff Azoff… your branding worked," one fan tweeted. "Now people think Harry has a superiority complex and never does anything to appreciate his fans or the boys!!!"
Many others made similar tweets, accusing Azoff of marketing Styles as untouchable, which was starkly different from how the musician was beforehand.