Harrison Smith and His Wife Madison Knew Each Other since Childhood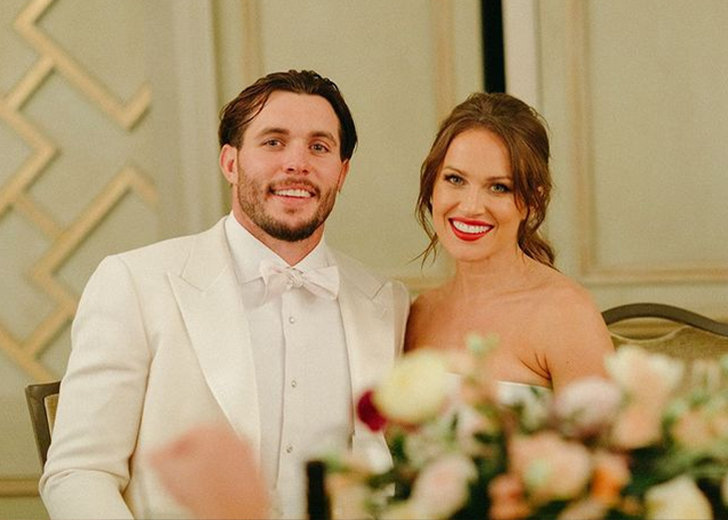 Harrison Smith and his wife Madison Bankston have been together for almost a decade now. 
Bankston took to Instagram to mark the couple's relationship of nearly a decade on August 29, 2021. 
She posted a picture that saw her sharing a passionate smooch with her spouse and wrote a caption, paying tribute to their relationship.
"Ready for year 10!," Bankston wrote in the opening sentence.
Further, she recalled when she attended her first NFL game at the Metrodome. Her partner's team, Minnesota Vikings, had been victorious against the Chicago Bears, beating them with a score of 21-14.
Harrison Smith's Early Relationship with His Wife
Smith and Bankston first met during their elementary school days after becoming part of a youth swim team in Knoxville, Tennessee.
However, their love story had an unusual beginning. It wasn't love at first sight. Instead, an eight-year-old Smith found Bankston to be mean. 
"Well, maybe it was because he was annoying," Smith's wife told Vikings' official website in 2020. 
She added her earliest memory of Smith was of him playing the "little brother" role to her, his sister Natalie, and their friends.
In her recollection, Bankston noted Smith would visit the girls in the shallow end during their hang out and splash them with his cannonball move.
That being said, swimming wasn't something the future football star was well-equipped at during his early days. "I couldn't swim very well, but she was like the star," explained Smith.
Further, the Minnesota Vikings' football safety noted they "were never great friends or anything at that time."
However, their schooldays' familiarity developed into great friendship over time, which they maintained even when Smith went away to Notre Dame and Bankston stayed in Tennessee.
The Start of Their Romantic Relationship
As a first-round draftee, the NFL player broke into Vikings' first-team, nabbing a regular starting berth in 2012.
After eleven match days during the season, he took a trip back home to visit his family, friends, and Bankston for Thanksgiving.
The couple went out for sushi, marking the coming-together as their first date.
They dated for several years following the outing, weathering the highs and lows in their relationship and career.
Harrison Smith Married Bankston in 2020
After the world got hit by the COVID-19 pandemic, regular life, businesses, sports events, etc., came to the point of a stand-still.
Consequently, the 2020 preseason was scrapped, and the players were sent back home to spend time with their families. 

Harrison Smith with his wife Madison Bankston on their wedding day. (Photo: Harrison Smith's Instagram)
After returning home, Smith used the hiatus to pose Bankston with the big question. 
The "Hit Man" took help from Bankston's mother and arranged for a proposal at her house in July 2020. 
Meanwhile, Bankston had already sniffed something going behind her back after noticing how her mom was "all glammed up and looking gorgeous" for a presumed dinner.
Despite that, the Viking star proposed to his wife in her mother's backyard, and their wedding preparations followed soon after.
The couple married in April 2020 during a small private ceremony held at the Biltmore Estate in Asheville, North Carolina.
The wedding venue held special meaning in Bankston's life as she had visited the place many times with her father, who passed away in 2013.