Harris Dickinson on Portraying Gay Characters as a Straight Man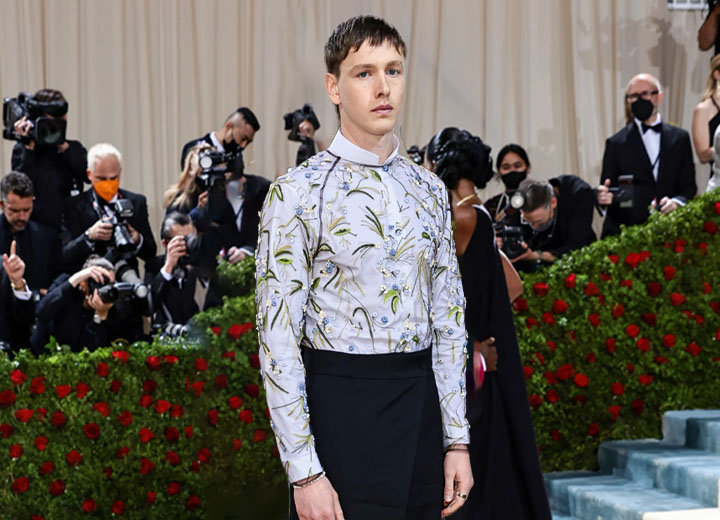 When the 26-year-old Harris Dickinson landed the lead role in Beach Rats, he knew what he was getting into.
The intriguing strapline, "All this male nudity and gay sex!" provided enough clues for Dickinson. He was, without qualms, taking on a gay character.
Dickinson brought life to Frankie, a bored, high Brooklyn teenager struggling to come to terms with his sexuality. He resorted to spending time in gay chatrooms, hooking up with guys at cruising spots, and romancing a girl, only to push his true identity further away.
The talented actor was nominated for an Indie Spirit Award for his lead performance, but even then, he was not too excited by the news and had somewhat of an underwhelming response. Perhaps it is the same apathy that helped him bring the queer character to life.
Harris Dickinson on Taking Gay Characters
During an interview with Another Man, the actor opened up about his new role and playing queer characters as a straight man.
It is worth noting that before Beach Rats, Dickinson landed a role in Postcards From London. The movie is about Jim, who finds himself in the company of The Raconteurs, consisting of four adorable male escorts who share post-coital stories with him. 

Harris Dickinson as Frankie, a 19-year-old gay person in Beach Rats. (Source: Twitter)
When asked how he felt about taking on queer characters as a straight man, he said it was not so much about sexuality as it was his character's struggle.
"It's interesting because if you are playing a gay character, or queer, as you said, there is a certain responsibility to represent it correctly—whether that means representing a struggle, or representing the truth of the situation," said the actor.
He added that Jim from Postcards From London knew who he was, who he liked, and with whom he wanted to have sexual encounters with. So his journey was more about "desire and lust for knowledge, and expansion and self-identity."
But then, for Beach Rats' Frankie, it was all about struggle, hardship, and dealing with stigma and hate crimes. 
Harris Dickinson's Queer Roles Spurred Gay Rumors
With Dickinson doing back-to-back queer roles, questions regarding his sexual preference in real life got quite an attention. Some even gossiped about how he could be gay behind the curtains. 
But the rumors died after fans caught on that the Triangle of Sadness actor was in a relationship with the musician Rose Gray. The pair started dating in July 2013. 
Dickinson does not have any photos of his girlfriend on his Instagram, but Gray has a few on hers.
On February 22, 2022, the musician uploaded a photo of Dickinson hugging her with the caption "ma chery and i outout." In another post, she shared a tribute in honor of Dickinson's 25th birthday.