Inside Guy Fieri and Wife Lori's 25-Years of Marriage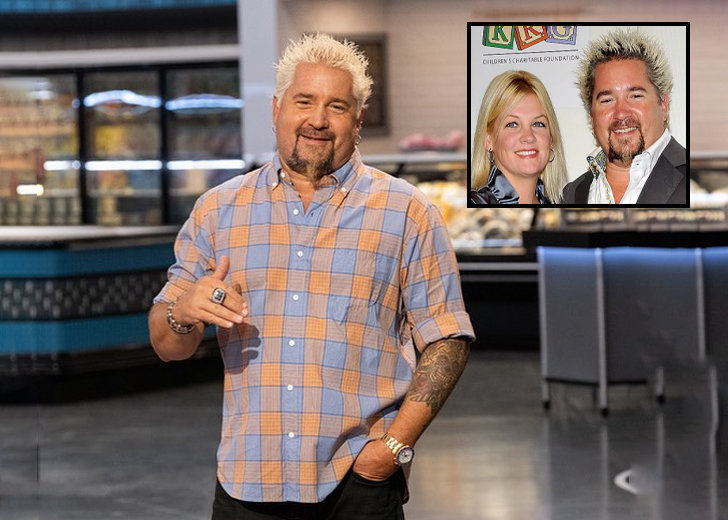 Popular restaurateur and Emmy-winning television presenter Guy Fieri has been married to his wife for over twenty-five years. The couple is proud parents to their two kids.
For his work on various television shows, the celebrity chef is affectionately known as the Mayor of Flavortown, while his wife is popularly called the First Lady of Flavortown.
Who Is Guy Fieri Married To?
The popular chef is married to his wife, Lori Fieri, and they have been together since 1992.
Lori was born in 1973 and was brought up in North Providence, Rhode Island.
Fieri first met Lori in California when he ran a restaurant in Long Beach.

Celebrity Chef Guy Fieri (Photo Credit: Instagram)
One day Lori showed up at his establishment with her friends, and it was love at first sight.
Fieri was initially talking to one of Lori's friends when he noticed a blue-eyed, blonde girl standing behind her giving him a mean mug, Fieri told Delish in 2017.
The three started talking, and it was then Lori told Fieri that she was on a cross-country trip and was bound for Southern California. "She never made it to San Diego," joked Fieri.
In his recollection, the chef said he "just knew" she was the right match for him and won her over with his cooking.
"The first time I cooked for her, she was just like, 'You made all this?'" recalled Fieri.
Guy Fieri and His Wife
After dating each other for three years, the couple tied the knot in 1995. The following year in August, their eldest son, Hunter, was born.
Similarly, on December 31, 2005, the couple was blessed with a second child, Ryder.
Reflecting on his long-time marriage with wife Lori, the chef gave out his recipe for a long and happy marriage during his interview with Today in 2018.
Fieri said that to get to where they stood as a couple, one has to be willing to adapt and understand. "It's all compromise and understanding," he remarked.

Chef Guy Fieri, his wife Lori Fieri, alongside sons Hunter and Ryder (both left) (Photo Credit: Instagram)
In 2020, the couple celebrated their twenty-fifth marriage anniversary.
Like Fieri, Lori is an excellent cook, and her go-to dish, "noodles and beef," is his favorite dish, the celebrity chef told Today.
Further, he said his wife's other dish, linguine and clams, are among his favorites as well.
Guy Fieri and His Kids
In 2018, Fieri's eldest Hunter told Delish that he wanted to follow in the footsteps of his successful father. 
"I want to follow in the same path because I feel like I can kill it with that," said Hunter.
However, Hunter said his dad "definitely" had a certain style, and there's no way he could follow his father's act. 
"I could try, but It wouldn't work," Hunter claimed.
Further, during the same interview, Fieri's son said he did not "really like anything else" other than to be outside and cooking, as, in his words, it's what he does.
After graduating from his school in 2015, Hunter followed his dad for a month in Europe, where five episodes of their show Guy and Hunter's European Vacation were filmed.
"I learned a lot more about the food there than I have ever had anywhere else," Hunter said of his experience.
Like his brother, Ryder would go on to make a handful of appearances in his dad's shows, like Guy's Big Bite, Guy's Family Cruise, and Guy's Family Road Trip.