Detailed Timeline of the Gus Johnson-Abelina Sabrina Controversy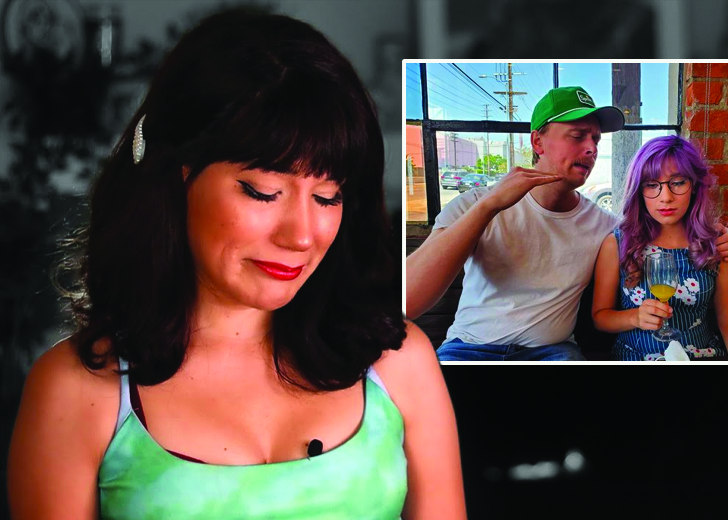 Gus Johnson became quite controversial towards the end of 2021 after his ex girlfriend, Abelina Sabrina's allegations. Her accusations about his behavior during their relationship, and especially during a difficult time for them, made him quit the internet for a bit.
The comedian has tried to redeem himself multiple times over the course of a year. However, the controversy still comes up now and again.
So, what actually happened between them, and what were the allegations levied against Johnson?
Abelina Sabrina's Allegations against Ex Boyfriend Gus Johnson
On October 22, 2021, Sabrina uploaded a video on her YouTube channel titled 'My ectopic pregnancy.'
In the almost 24-minute long video, she detailed her experiences with the condition in 2019, how her partner at the time treated her, and their time together dealing with the problem.
Sabrina did not take her partner's name in the video, but everyone figured out it was Johnson soon enough.

Gus Johnson with his ex girlfriend, Abelina Sabrina. (Photo: Twitter)
In the video, she alleged her partner initially dismissed her concerns about her pregnancy as she felt the need to get herself looked at. Instead, he wanted to go out and have drinks.
Sabrina then tried to keep her feelings within herself and pretend things were fine. She would still occasionally take his help to get to the hospital.
This, however, she claimed, was turning out to be a burden to her partner, who at one point told her, "anyone else would have left you by now."
"It was awful, and then it would get to the point where I would ask for help to take me to urgent care please, because I can't drive myself, and he would say, 'Oh well call the advice nurse, and then I'll take you,'" she said during the video.
And even when she made calls to the medical practitioners, he would insist on listening to their talk as he did not want her "exaggerating" her symptoms. He did the same during her doctor appointments, sitting through them and correcting her in front of them.
Sabrina also spoke of the lack of support she felt during the time, saying: "The lack of support was really hard, and I had to put myself through therapy to try and minimize these episodes because I don't want that."
The video came at a peculiar time for the two, as they had just broken up in September.
What Followed the Allegations against Gus Johnson
Johnson, just three days after Sabrina's video went live, took to Twitter to release a written apology statement.
"I'm aware of a recent video that calls out some actions that I'm not proud of and I want to apologize," he wrote. He said he realized his wrongdoings and apologized to Sabrina for the pain he caused her.
In his statement, he also announced he would step away from social media and work "for a while" and assured refunds for those who had bought tickets to see him live that year.
That same day — October 25, 2021 — Sabrina directly responded to Johnson's apology, writing, "I won't accept a misleading apology with lies in it. I don't forgive you," on Twitter.
By this time, Johnson had gone on a hiatus and did not respond to many outlets reaching out to him for a response. It appeared as though he wanted to deal with things in his time, and he did a few months later.
On January 23, 2022, a new video titled 'talking about the last few months' appeared on Johnson's YouTube channel. In the almost-5 minute video, the comedian addressed everything he did not touch upon in his Twitter statement.
He confessed to not being able to see the severity of the situation from up close, adding to Sabrina's pain and saying "dumb stuff."
"I'm sorry I caused her hurt during this time and I'm sorry I wasn't the partner she needed during (that) really difficult period," Johnson said towards the end of the video.
Sabrina has not directly addressed his apology video yet. But Johnson did have something to add to the controversy.
In an off-the-cuff interview with Paymoneywubby in April 2022, the comedian detailed his side of the story and claimed Sabrina "mischaracterized" him in the ongoing drama.
He said that even though they had agreed upon termination if they got pregnant during the early days of their relationship, she changed her mind once she realized she was with a baby.
"I didn't deal with that in a mature way. I was really fearful, and I told her that 'I wasn't ready for this,'" he confessed.
Initially, he admitted to not being there for her during her hospital visits, but he was there for her surgery and recovery. They even went to couple's therapy for a year after the pregnancy.
Further, Johnson also claimed that after their September 2021 break up, Sabrina wanted to give their relationship another shot. He, however, was not in that place anymore, and he did not agree to a patch up.
This caused her to get angry, which, according to him, happened right before she put out the video. Allegedly, Sabrina even tried to get his friends and business partners to stop working with him.
Johnson also responded to her claims about him lying on his initial Twitter apology, posting medical receipts of their couples' coaching sessions.