Graham Elliot and Wife Allie Bowles Are Co-parenting 3 Kids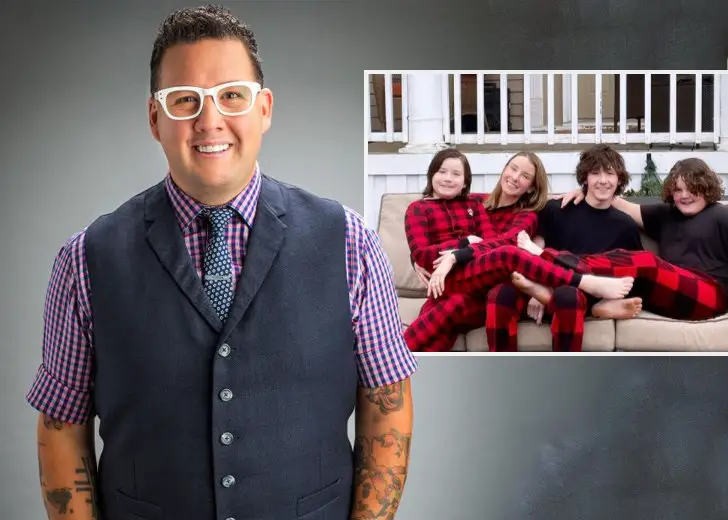 Graham Elliot, his wife Allie Bowles, and his three children, Mylo Ignatius, Conrad Matthias, and Jedediah Lindsay, lived in Morgan Park on Chicago's south side.
However, Graham returned to Hawaii in 2021. There were rumors of the couple being divorced, but nothing has been confirmed at the time of this writing.
Meet Graham Elliot's Wife Allie Bowles
While the MasterChef judge continues to receive media attention for his work on screen, he keeps his personal life discreet.
The same goes for his wife, Bowles, a mother of three. 
Bowles is currently employed by Morgan Park Academy, a small, independent school on the city's Southside, as an Admissions Officer.
She also works as a yoga instructor for Warrior Mom Yoga and Barre It All Fitness, helping people build flexibility and core strength.
Before returning to Chicago to pursue a career in hotel and restaurant management and event organizing, she earned a bachelor's degree in hospitality management from Northern Michigan University.
She joined Barre It All in 2016 after falling in love with the lessons. After completing her certification, she became a barre instructor, and the rest is history.

Allie Bowles doing yoga for Warrior Mom Yoga. (Photo: Instagram)
Additionally, she is on the honorary board of Smile Train, a non-profit cleft lip and palate charity for which she was named "volunteer of the year" in 2019.
Graham Elliot and His Wife on Parenting
Elliot and his wife had their first child on September 18, 2010. He was very excited when Conrad arrived in their life.
The restaurateur already had a kid named Mylo from his first marriage.
"Mylo says he is super excited to have a little brother," Elliot said, "so long as he doesn't play with his toys!"
Elliot was looking forward to treating Conrad with all sorts of amazing baby foods.
The couple named their third kid, Jedediah Lindsay Bowles, after both of their fathers' names. She was born in August 2012.
"Mom/baby doing great, [Jedediah's big brothers] Mylo and Conrad are so excited!" tweeted Elliot on the special day.
Even though Elliot and his wife live separately these days, with Elliot living on the beach in Hawaii, the couple is still happily co-parenting the three boys.
On Elliot's birthday, Bowles took to Instagram wishing him with the photo of their kids blowing off candles on a cake. She shows her gratitude for the three "gifts" on the post.
Meanwhile, Elliot is living with his dog in Oahu, Hawaii. He only posts about his kids very frequently and likes to keep them away from the spotlight.