Gordon Lightfoot Living on "Borrowed Time" with Third Wife Kim Hasse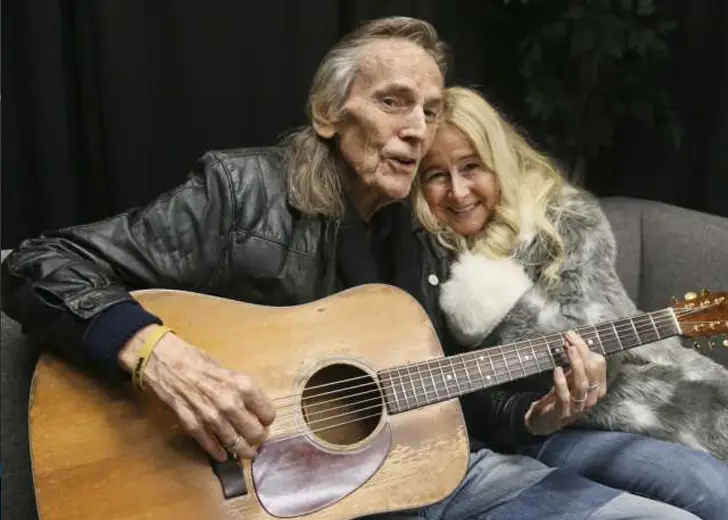 Legendary singer Gordon Lightfoot has been married three times. He is currently living with his third wife, Kim Hasse. 
The singer has numerous kids with various women between three marriages and a couple of relationships. Here is everything about Lightfoot's past, current spouse, and personal life. 
Gordon Lightfoot and His Wife, Kim Hasse
Lightfoot talked about his spouse and shared his love story with Zoomer on November 25, 2021.
He met Hasse, a background actor from Iowa, in 2008 at a concert in Florida. 
The two got married six years later, on December 19, 2014, in Rosedale United Church in Toronto.
The singer gushed about his wife to the magazine, saying she was "a very helpful and good person in so many ways."
Hasse is with Lightfoot most of the time, even when he is on tour. She takes care of her husband and looks after his health. 

Gordon Lightfoot. (Source: Wikimedia Commons)
She takes the responsibility of looking after his medications, going to the pharmacy, and going to appointments.
Lightfoot even said that his spouse would "rather sleep on the hospital floor than leave me there."
The singer had an affair with many women in the past. He described his past self as "chauvinistic."
But currently, he only has a single person to share his life with, Hasse. While Lightfoot had a colorful past, he no longer discusses it out of respect for his spouse. 
He rarely speaks about his ex-wives since he does not want to upset his wife.
In the same interview with Zoomer, Hasse also confessed that it was difficult to listen to her husband's old records. 
This was because they were meant for other ladies. But now, she has realized that it is not possible to be always offended, and she needs to share him. 

Young Gordon Lightfoot. (Source: Facebook)
She said, "No one can have all of Gordon — we each have our unique love story with him." The singer once said that he was living his life on borrowed time. 
He said so because he has had various near-death scares in the past. But now, he has Hasse, and he is happily sharing his "borrowed time" with her. 
Gordon Lightfoot's Ex-Wives and Kids
Before Hasse, the singer was married two times. His first wife was named Brita Ingegerd Olaisson, and the two got married in April 1963. 
The marriage lasted only for a decade since Lightfoot cheated on Olaisson. Due to the long-distance relationship because of tours and infidelity, the two divorced in 1973. 
Lightfoot was blessed with son Fred and daughter Ingrid from his first marriage. Unfortunately, Olaisson is no more. She passed away on June 8, 2005. 

Gordon Lightfoot with his wife, Kim Hasse, and daughter Meredith. (Source: Facebook)
Currently, Fred and Ingrid have kids and grandkids, and they keep in touch with the singer. After Olaisson, Lightfoot was not technically married, but he had some affairs. 
He was linked with Cathy Smith and had a common-law marriage to Cathy Coonley. He has a son named Eric that he shares with Coonley. 
Similarly, he has another son, Galen, born out of an affair he had in the 70s. Galen's mother used to be a waitress at a club in Los Angeles named Troubadour club. 
However, Lightfoot has not revealed the name of the waitress. The singer's second spouse was Elizabeth Moon, and the two got married in 1989. 
The pair had two kids — Miles and Meredith. They separated in 2003 after the singer suffered a life-threatening aneurysm. After nine years of separation, the pair got a divorce in 2011.