Revisiting Gaz Beadle's Stunning Wedding to Emma McVey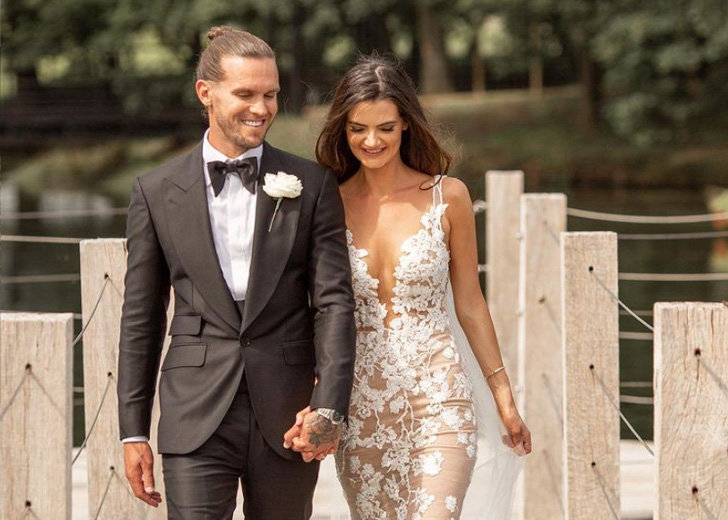 Gaz Beadle and Emma McVey have been together since 2016. After dating on and off, they got engaged in 2019.
But the Geordie Shore star had no choice but to postpone his wedding to his girlfriend when the pandemic lockdown brought the world to a complete stop.  
Fortunately, they could carry out their wedding in 2021 at Merrydale Manor in Cheshire when the pandemic restrictions were lifted.
The wedding celebration was a small and intimate affair, including 90 guests. 
Gaz Beadle and Emma McVey's Wedding
Celebrities in attendance included Beadle's former Geordie Shore co-star Aaron Chalmers. 
The couple's children, Chester and Primrose, also joined the bride and groom for their special day. 
Gaz and his wife revealed their kids were lockdown babies who were not used to seeing many people.
Their kids were supposed to walk down the aisle with the man of honor, but they got overwhelmed by the cheering and the crowd. 
In the end, the parents had no choice but to hold them while they exchanged their vows. 

A photo of Gaz Beadle and his wife, Emma McVey, from their wedding. (Source: Gaz Beadle/Instagram)
Speaking about his special day, Beadle admitted he was more concerned about his kids than his bride. 
"I always knew Emma would look amazing. I thought I'd cry when I first saw her walking down the aisle—and I would've if she'd been on her own—but actually I kept wondering if Chester was OK!" shared the father-of-two. 
The mother added that their firstborn struggled more and clarified that they were not the kind of parents to leave their kids with others while they were crying. 
They were ready to comfort their toddlers no matter what. 
Emma McVey Arranged a Surprise Performance for Partner
And to make their day more memorable, McVey arranged a surprise performance for Beadle. 
She had invited The Only Way Is Essex star James Argent to serenade their guests with a playlist that she had compiled. 
McVey had known Argent for a while, and they had a mutual friend in the hotel PR, so Argent agreed to come down and surprise Beadle. 
The model and mother-of-two shared her husband had zero involvement in planning for their special day. 
She shared Beadle had not even joined her for the food tasting, but he wanted a fun event. 
"I knew I had to make it good, so I got Arg down to sing for it. He got everyone going, it was hilarious," shared McVey.
Argent took to his Instagram and shared photos from the celebrations alongside a heartfelt message.
"Gary & Emma tie the knot. It was an honour to be your Wedding singer, I had so much fun," wrote Argent. 
He affectionately showered the couple with compliments, telling McVey she looked beautiful and that she and Beadle had lovely family & friends.
The singer concluded the post, congratulating the couple and wishing them luck for their future.