Garth Brooks Felt like He Met His Wife When He First Met Trisha Yearwood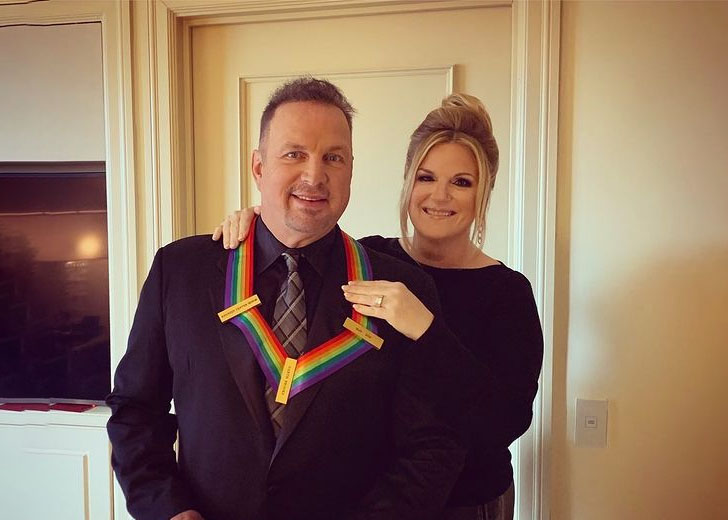 Garth Brooks is proud of the house he has built with his wife of 16 years, Trisha Yearwood. 
He met Yearwood when he was just 13 months into his first marriage with Sandy Mahl. As per US Weekly, the takeaway from the country legend's first encounter with Yearwood was: "I felt like I just met my wife." 
But that's getting too far ahead. 
Garth Brooks & Trisha Yearwood: 16 Years & Counting
Yearwood took to her official Instagram on December 10, 2021, to put up a celebratory post for her sixteenth anniversary with her "Mr. Yearwood." 
The post came with a heart-melting picture to get the message across. It was their "sweet sixteen," after all. 
The monochrome snap framed Brooks kissing his beautiful wife in front of a presumably huge crowd—an expression of love.
The country singer took off his cap; the guitar still hung by his shoulders. Still, he couldn't help but close his eyes. 
Trisha Yearwood & Garth Brooks Had Instant Chemistry
Although the anniversary post featured a picture-perfect couple, and Brooks' comment from earlier made it seem like the couple hit it off almost instantly, things in the real world weren't as straightforward. 
Yes, Brooks saw a wife in Yearwood the very first time he met her, but he was a religious man. He was married in a church in front of family, and friends, and God. 
Still, in retrospect, Brooks admitted that he would not change a thing. He believed that if he'd married Yearwood back then, his career would have suffered. He shared, 
I feel very lucky right now where I'm at. So even if I did have regrets, I wouldn't change anything in fear of changing where I'm at right now.
Trisha Yearwood Helped Garth Brooks Raise His Daughters
Brooks married his ex-wife, Mahl, in 1986 and got divorced in the year 2000. In that time, the couple welcomed three beautiful daughters into the world: Taylor, 27, August, 25, and Allie, 23.
When he got divorced, he left Nashville and moved back to Oklahoma with his three daughters. At the time, his daughters were young — 8, 6, and 4, respectively. 
"I was about to get a crash course in females," he recalled. Thankfully, he had Yearwood to help him through.
She didn't have any children of her own either. As Brooks put it, "We were kind of the blind leading the blind."
For Garth Brooks, Three Daughters & Three Parents Worked
In retrospective clarity, Brooks confessed that he would not wish divorce on anyone, but in his case, three parents for three kids worked wonders. 
To this day, Brooks' daughters celebrate Yearwood as their "bonus mom." 
So to celebrate Brooks and Yearwood's 16 anniversary, Brooks' youngest took to her Instagram stories. (via People)
"16 years ago I got the best bonus mom in the world," she wrote. "As a child with two amazing parents to have been chosen by a 3rd as a daughter is a gift I cannot explain."
In response, Yearwood claimed that she was the lucky one here. She claimed to be honored to have been a part of the family.